Nokia has pulled out of the physical MWC Barcelona event planned for June this year, along with other companies, but plan to back the event's online side.
Sony has issued a statement saying it will not participate, while Oracle told a telecoms news site it would not be there. The GSMA, organizers of the MWC series, hope to host 50,000 visitors in a show in Barcelona in June 2021, following a 25,000 person event that took place in Shanghai, China in February.
Ericsson pulled out of the physical Barcelona event this week, echoing events last February when the Swedish telecoms manufacturer began an exodus which led to the cancellation of MWC 2020 with a few days' notice.
Skip a trip to Barcelona?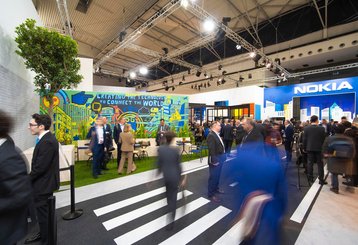 "The health of our employees, customers, and partners is of paramount importance to us," said the Nokia statement. "Given the international nature of the event and with the global vaccine rollout still in its early phases, we have made the considered decision to instead participate in only the virtual event."
Nokia's statement expressed support for the parallel event online: "We understand that GSMA is planning a range of online activities and we look forward to working with them to understand how we can participate."
Sony's statement, sent to Cnet, was more blunt: "Sony Mobile has taken the decision that it will not be participating in MWC 2021. As the world increasingly shifts towards digital and online opportunities to prevent the spread of the novel coronavirus (COVID-19), Sony Mobile will communicate in ways that can deliver our exciting product news to a wider audience."
Oracle revealed it had pulled out of the in-person event on TelecomTV.
Several other companies are taking a wait-and-see approach: LightReading reports that Intel, Lenovo, Qualcomm, and LG have all said they have not yet decided whether they will attend, while companies including Cisco and AT&T are not responding to queries.
The GSMA's page for the June 28 to July 1 event contains links to safety precautions and says Huawei is sponsoring the event lanyards. Nokia CEO Pekka Lundmark is down to do a keynote - presumably by video, like his speech at MWC Shanghai.
Travel restrictions across Europe are currently tight as the continent weathers a winter surge in the Covid-19 virus. Spain (population 47 million) is currently logging around 6,000 new cases per day, with 68,000 current cases per million of population.