Solar Alliance Energy Inc is to design a 56MW solar project for a 150 MW data center in Illinois.
The Canadian company has signed a Solar Design Agreement with Green Data Center Real Estate Inc. to commence design for a 56MW, $60 million ground and roof mount solar project at a hyperscale data center in Illinois, as well as feasibility analysis for further expansion.
Solar Alliance says the data center is anticipated to have sufficient demand to support a solar project up to 150MW. The company will simultaneously advance design work on the initial 56MW phase while determining feasibility of a larger second phase.
"This project represents a natural expansion for Solar Alliance into large project development and ownership," said Solar Alliance CEO Myke Clark. "As we continue to design and build solar systems for residential builders and commercial clients, we are also excited to begin project development work on larger utility-scale systems.
"The 56MW project – with expansion potential up to 150MW – in Illinois is a prime example of the type of new project we will be pursuing this year in addition to growing our commercial solar pipeline. Green Data is at the leading edge of an exciting, fast growing industry that Solar Alliance is proud to be a part of."
Click here to download and read DCD's latest sustainability supplement
Solar Alliance gets a cut of the facility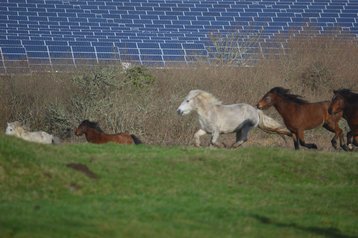 Under the terms of the Agreement, Green Data has granted Solar Alliance the option to provide equity to acquire up to 10 percent of the entire project. Solar Alliance is also working on a 4.57MW ground and roof mount solar project at a 10MW hyperscale data center owned by Green Data in Murphysboro, Illinois.
"Solar Alliance has added value at every step of this project's development, and we are pleased to sign this Solar Design Agreement and continue making progress." said Green Data COO Sean Stofer. "This is a complex project which requires deep power sector expertise and having Solar Alliance as a potential project owner only increases our confidence in the success of this endeavor. We look forward to completing the next stage of this project and exploring other data center opportunities with the Solar Alliance team."
Solar Alliance and Green Data have had a close relationship in recent years. Green Data Center Real Estate Inc was previously known as NuYen Enterprise Hosting and NuYen Blockchain before that. In 2018, NuYen moved into a Solar Alliance-owned 165,000 sq ft warehouse facility in Murphysboro with plans to convert it into a cryptocurrency mining facility. NuYen then took over ownership of the facility through a joint venture – Solar Alliance Hosting – with Solar Alliance due to take a cut of the mining profits, before NuYen then bought the hosting company.
At somepoint NuYen Blockchain became NuYen Enterprise Hosting before becoming Green Data Center Real Estate Inc, and the plans for the Murphysboro facility developed from a cryptocurrency mining facility into a 10MW colocation data center that will also reportedly include a community electric vehicle charging hub.