A Digital Realty data center in Trumbull, Connecticut, suffered a small chemical leak yesterday. No one was injured.
Corrosive chemicals leaked from a coolant pump at the building on Merritt Boulevard, causing an employee to feel eye and throat pain. Hazmat crews involvinvg some three dozen firefighters attended, according to News 12.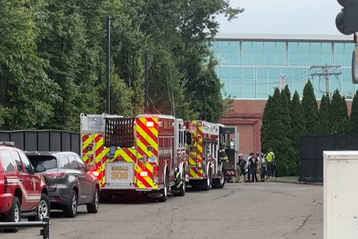 The 80 Merritt Boulevard building was originally a data center for Nasdaq, which sold it for $30 million in 2006, according to filings on the Nasdaq site. Digital Realty acquired it in 2009, as one of a set of three facilities it bought from Sentinel Data Centers.
According to News 12, the leak took place in a pump feeding a cooling tower on the roof of the building. No one was injured.
The Nasdaq started life in Trumbull as the first electronic stock market. In 1971, it opened its first data center in the city. By 2005, it had moved its data centers out of the Merritt Road building, and used the site for office staff, according to a filing. The building itself was then sold in 2006.
When Digital bought it in 2009, it had already been renovated to then-current data center standards, by Sentinel. The building currently has 228,000 sq ft (21,180 sqm) of data center space, and 53,000 square feet (4,900 sqm) of dedicated Business Continuity Program space. Digital Realty has a video tour of the site.