US data center firm Serverfarm has announced the availability of 110,000 square feet (10,200 sqm) of new capacity at its Atlanta data center.
Serverfarm acquired the data center in Suwanee, Georgia, from AMD in 2017. The company said the tenant had developed the facility as its enterprise data center but only occupied about a quarter of the available capacity in the building.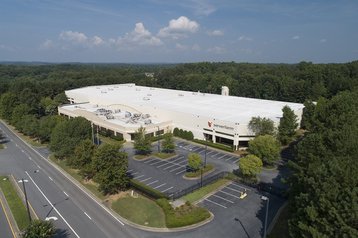 This year, Serverfarm said it acquired the client's mechanical and electrical infrastructure supporting its IT capacity, while also building out additional capacity. In total, the 153,000-square-foot (14,200 sqm) building at 305 Satellite Blvd, offers 14MW of capacity.
"We saw an opportunity to cost-effectively add capacity for this client, who was bursting at the seams but needed a more efficient data center strategy, while also applying our signature efficiency- and sustainability-focused data center management approach to this facility," said Mario Calderone, VP of Real Estate for Serverfarm. "We firmly believe that the greenest data center is the one that doesn't need to be built at all. Through this Atlanta project, we've opened up more than 110,000 square feet of available data center space to the local business community, preventing a new data center build."
AMD originally filed for a construction permit for the data center back in 2011; a retrofit built into an existing shell, with an estimated construction cost between $25m and $30m. The facility opened a year later, as a single module, and then was expanded as AMD consolidated its data centers.
In 2014, AMD told reporters that it planned to consolidate its 18 data center facilities around the world to two data centers by 2015: one in Georgia and another in Cyberjaya, Malaysia.
"About a decade ago, our customer built and managed their entire IT infrastructure environment in-house, which was a common business model at the time," added Avner Papouchado, CEO for Serverfarm. "But over the years, as enterprise IT grew in complexity and high-growth companies needed to focus on scaling cost-effectively, that approach has evolved. We're thrilled to be a part of this customer's extraordinary growth story and to serve Atlanta's top businesses with sustainable, affordable and well-managed data center capacity."
In April, Serverfarm acquired a 117,500 sq ft (10,900 sqm), 12MW data center in the El Segundo area of Los Angeles, California that was previously operated by T5 as its @LA facility.