Telekomunikasi Indonesia International (Telin Singapore) and Super Sea Cable Networks (SEAX) have announced a partnership to offer high capacity, low latency domestic network solutions in Singapore.
Telin Singapore is a wholly-owned subsidiary of PT Telkom Group, and was awarded the first plot of land at Tanjung Kling Free Industrial Zone in 2014, upon which the Telin-3 data center was built. SEAX is an independent submarine cable developer that is set to launch its first subsea cable, the SEA Cable Exchange-1 (SEAX-1), in March 2018.
Improving connectivity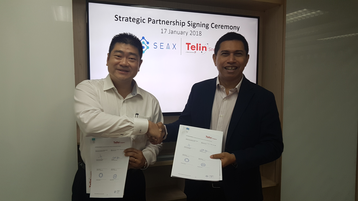 As we reported earlier, SEAX-1 is a 250km, 24-fibre pair undersea cable that will connect Mersing in Malaysia with Singapore and Batam in Indonesia. Each fiber pair has a capacity of 100G, with the majority reserved for lease or sale to network operators.
Telin Singapore has its own dark fiber ring with significant cross-Singapore capacity. It connects the company's three data centers and its points of presence in various carrier hotels across Singapore - SEAX is evidently looking to tap into the wide customer base that it represents.
"SEAX is pleased to partner with Telin Singapore in providing our customers with high-capacity submarine cable connectivity to implement its plan to be one of the leaders in ASEAN to establish an ASEAN broadband corridor," said Joseph Lim, CEO of Super Sea Cable Networks.
"This is in line with the ASEAN co-operation's ICT focus, which is expected to be an engine of growth for the region. The partnership with Telin Singapore, a member of Telkom Indonesia Group, is a step closer to realizing this," he added.
"This strategic partnership with SEAX will enhance our capabilities at Telin-3 Data Centre and telecommunication hub offering both seamless domestic and global connectivity for our customers," said Andreuw Th.A.F, the recently appointed CEO of Telin Singapore.
"This will also strengthen our commitment to provide reliable, secured and seamless regional and global telecommunications connectivity services to meet the increasing demand for bandwidth capacity, colocation and critical IT infrastructure services in this region."