SDC Capital Partners is planning a 111-acre data center development in Belmont, in Northern Virginia's Loudoun County.
The Belmont Innovation Campus, to be located between between Belmont Ridge Road and Goose Creek, north of Luck Stone's Leesburg quarry and south of Route 7.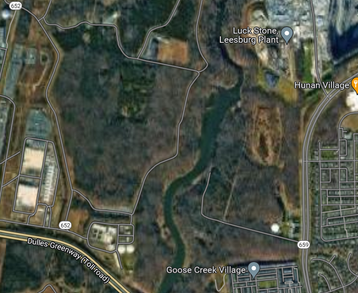 BizJournal reports that SDC Capital Partners LLC has filed a land use application this week to Loudoun County to bring eight parcels at the site under "consistent zoning" to create "increased data center development potential" on a "cohesive campus."
Founded in 2017, SDC Capital Partners is a private equity firm based in New York and focused on digital infrastructure. Its investments include Sentinel Data Centers, Latin American operator Ascenty, a number of fiber firms, and Arcadia Towers.
About half the site is zoned such that SDC could develop data centers there by right, meaning the company wouldn't have to seek any special permission from the Loudoun County Board of Supervisors. The other half, though, is zoned for agricultural uses.
The company currently owns seven parcels, with the last parcel reportedly owned by Jamal and Maha Fadul, whose primary residence is in Bethesda, according to Loudoun County property records. It's unclear if SDC has a bid submitted or underway to purchase that lot — the company didn't return BJ's request for comment.
"There are very few remaining parcels in eastern Loudoun County that are recommended for data center development, despite growing pressure for the development of data center uses," SDC said in its application. "Maximizing data center development opportunities in appropriate areas, such as the [Belmont Innovation Campus], will help to relieve development pressure in other areas that are not suited for data center development."
The proposed site is located within an area where the local electric utility, Dominion is facing capacity issues. Planning is underway for one of two new high-voltage power lines, which will cost as much as $600 million and is expected to be delivered around 2026. When asked for comment on the power needs, Dominion sent this statement to the Washington Business Journal: "We are working with all customers, including SDC, on-site developments, and timelines for their electric service needs."
Loudoun County officials have recently introduced new rules limiting where data centers can be built, including along Route 7.
After months of committee meetings on the subject, the Board of Supervisors approved certain measures on September 20 that would prohibit new data centers along much of Route 7, County Supervisor Mike Turner, D-Ashburn, said in an email.