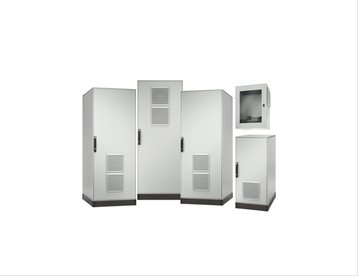 Hostile micro data centers
Industrial edge environments can suffer high levels of dust, moisture, and wide temperature variations. The R-series units are built to survive these hostile environments, with minimum ingress protection ratings of IP54 and NEMA 12. According to the definition of those rating schemes, this means they are "constructed for indoor use to provide a degree of protection to personnel against incidental contact with the enclosed equipment; to provide a degree of protection against falling dirt; against circulating dust, lint, fibers, and flyings; and against the spraying, splashing, and seepage of water, oil, and noncorrosive coolants."
The range includes six models in 16U, 24U, and 42U sizes; all are configurable, pre-packaged, enclosed rack systems that include power, cooling, security, and management.
They include Schneider's EcoStruxure IT remote management software so they can be used where there is limited on-site staff. They also include security features, including access control, intrusion detection, and a security camera.
The design has been streamlined to make it faster to deploy - saving 20 percent of deployment time, and 40 percent of field engineering costs compared to previous systems, according to Schneider. For customers with multiple locations, a customized standard build is available.