One of the signs of the vitality in the modular data center sector is that it seems to have mutated into all kinds of different markets. British manufacturer Cannon Technologies specializes in robust containerized systems, and counts amongst its customers the Army and telecoms operators.
Some modular vendors call their products pre-fabricated, some go for containerized, while others position their offering using titles such as portable and scalable. This must be confusing for purchasers of data center capacity as they need to deal with multiple variables. It's very clear from an encounter with Cannon that the company majors on its enclosures.
Military sub-contractor
Based in Hampshire, Cannon is engineering-led and has manufactured its equipment in Britain for its 30 year history. It started as a military sub-contractor, making sheet metal containers for the Army and Navy to house torpedoes, and has accumulated years of knowledge about how to create safe environments for sensitive mission critical equipment.  
To create reliable miniaturized data centers, it crafts Meccano-like units that can be bolted together in many combinations. These sheet metal creations call for expensive precision machine tool skills (which don't come cheaply in the Home Counties) but the economies they produce in the final product make it worthwhile, says Mark Hirst, the product manager for Cannon's T4 data centers. 
Many of the assumptions people make about equipment are wrong

Mark Hirst, Cannon Technologies
Manufacturing costs in China and Asia are rising, but are still massively cheaper than in Europe, but the data center market is highly specialized, says Hirst, and Cannon has learned a lot about fitting sensitive equipment for extreme environments, 
"The equipment that goes into a data center – like air conditioning units – is often built to a cost by the original vendor. Experience tells us that we can tailor them, by changing the capacitors for example, to work better. Many of the assumptions people make about equipment are wrong," says Hirst. "Some of the new vendors in the modular data center space are finding that out now. They're learning lessons we discovered a while back."
Some data center buyers, new to the area, make classic mistakes. For instance, mobile operator Orange insisted on having black cabinets even though metal in this color absorbs more heat. Even in relatively cloudy London, the sun has the capacity to cook comms equipment. The organizers of the London Olympics also insisted on their own colour scheme for street furniture - where an enclosure can act like a small oven. Since they're insulated and gas sealed, it's the work of only a few watts to heat them up.
Cannon's engineers use air circulation and solar shielding to offset this, Hirst explains. The Olympic organizers eventually used Cannon's own design, which reflects 72 percent of the sun's heat, to house comms equipment.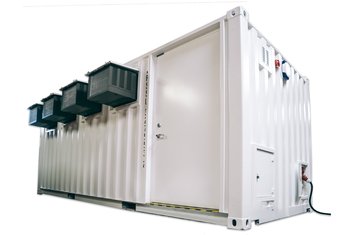 Military might
But it is work abroad and for the military which pushed Cannon to develop its solar shields. For climates such as Afghanistan, Saudi Arabia and Ghana it developed an outer shell that takes the solar onslaught, while creating a circulation of air underneath to prevent that heat working its way into the inner shells of a modular data center. All this has to happen without eating the space inside the unit, or making it the wrong size and shape to be delivered on a flat bed truck.
As a military contractor, Cannon has to anticipate disaster scenarios, and these can apply to domestic situations. A domestic O2 cellphone installation can also suffer a 'strike' (from an errant bus driver), in which case it must automatically detect this damage and switch off, rather than continue to expose the public to microwave radiation.
Creating a data center in a portable box, that has to be easy to ship, unpack and set up, means designers have to think of everything that can go wrong. "You need to use the clearest language possible, because everything can be misinterpreted at the other end. Make extra tool sets available as everything will go missing," says Hirst.
Cannon's modular data centers have to be delivered and assembled in the harshest conditions, so everything is pre-configured to work from the minute it is unpacked.
In the Camp Bastion military base in Afghanistan, for example, deliveries might have had to be made during a sandstorm. In response, Cannon created a clamshell design for a modular data center, in which two units are bolted together (in order to create a more useful internal space) but without the internal workings of the data center being brought down by a grade of local sand which was insidious enough to bring tanks to a halt.
On some of the mountainous outposts of Afghanistan, where members of the Royal Signals unit would be posted, there was only a three minute window for taking a delivery of a data center. Any longer than that would give time for a local Taliban unit to launch a rocket attack on the helicopter.
Decommission and destruction
Not all of the modular data centers that were parachuted into Afghanistan made it back and some of the ones that did were marked with bullet holes.
During the withdrawal from Camp Bastion, many of the data centers had to be left behind. Rather than let them fall into the hands of the Taliban, they were either burnt or buried. If that seems like a tragic waste of perfectly good equipment (in a country which could presumably use some hi-tech machinery in its Civil Service) here's the logic behind it. The Taliban might appear medieval, but you can't assume they don't have the technical capacity to examine old equipment and glean traces of its last signals and data. So everything was destroyed.
As a supplier to the Army and Navy, Cannon's team is familiar with the old military maxim: assumption is the mother of all cock-ups. It's a rationale that can also be useful in building systems for the private sector.