US-based High altitude pseudo satellite (HAPS) startup Sceye has successfully completed its third test flight in three months.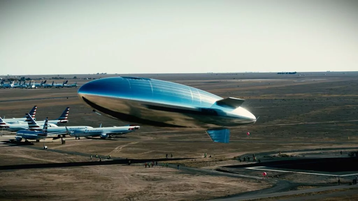 The company shared on LinkedIn that on Wednesday, August 16, the third stratospheric flight test of its airship platform completed "all primary objectives, including attitude and automated pressure control, beyond-line-of-sight command, and reliable launch and ascent."
The test flight also successfully enabled three independent and redundant data links, and also carried multiple payloads including an infrasonic sensor, a portable optical particle spectrometer, a radiosonde, and a prototype aerosol study device.
High-altitude pseudo satellites (also known as high-altitude platform stations) are airships, balloons, or fixed-wing drones that provide temporary connectivity to an area from the stratosphere, above commercial flights and turbulent weather patterns.
In the case of Sceye, this is an airship that flies at 65,000 ft and is powered by solar energy captured by the airship's solar 'cape' covering the platform, made of Copper Indium Gallium Selenide Cells and Gallium Arsenide Cells. The Sceye HAPS has been proposed not only to provide connectivity to rural communities and underserved regions, but also to house onboard sensors that can track greenhouse gases in real-time, and provide high-resolution earth observation.
According to the company's website, Sceye selected the airship form factor for its HAPS as it allows for "geostationary capability while lifting and powering far more payload than any other platform."
Several other HAPS developers are in the process of conducting test flights. July saw both BAE and Mira Aerospace conducting test flights, in the US and Rwanda respectively. Shortly after, SoftBank announced that it had successfully conducted a sub-scale test flight of its latest-generation HAPS platform.
Airbus' commercial HAPS unit Aalto is anticipated to roll out its commercial services in 2024, having already signed a Memorandum of Understanding with Bermuda's Paradise Mobile and a contract with NTT's joint venture Space Compass Corp for a demonstration flight.