European cloud provider Scaleway has launched resilient object storage across multiple availability zones in Europe.
The Multi-AZ Object Storage service will support up to 10 billion objects and petabytes of storage per bucket, and should provide data storage that is resilient against accidents or disasters like a fiber cut, power outages, network failures, fires, floods, and earthquakes.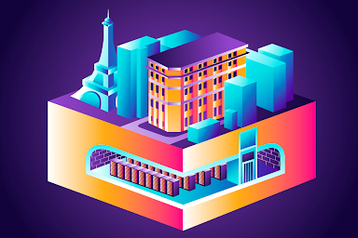 The service is supported from three geographically separate Availability Zones (AZ) within the company's fr-par region, including one zone based in a former nuclear bunker in Paris.
Nuclear bunker resilience
Scaleway, formerly known as Online.net, has been converting the 'Abri Lefebvre' fallout shelter into a data center over the last ten years. In September 2021, it announced the launch of a Paris Nuclear Shelter AZ in Paris, fr-par-3, based in the shelter. Now Scaleway's Object Storage platform-as-a-service (PaaS) product has been upgraded to a multi-AZ resilient service using three zones including the Nuclear Shelter AZ.
The service treats data as objects, in contrast to a file-based system or block storage which manages data as blocks within sectors and tracks. Object storage is fast and scalable, says Scaleway, offering files in milliseconds from high-end storage devices in the three zones.
"Data centers and data storage solutions provide mission-critical infrastructure, meaning that the slightest weakness can have disastrous consequences that directly impact organizations and their clients. By meeting the market's most demanding requirements, Scaleway is proud to release the first European multi-AZ object storage that is fully redundant, to improve resilience and ensure our clients' business continuity," said Yann Lechelle, CEO, Scaleway.
Scaleway says it is is the first European cloud provider to offer data resiliency across three independent Availability Zones within the same region, a feature only previously offered by the big players Amazon and Azure, described by Scaleway as "dominant players who do not adhere to European values, such as cloud sovereignty and choice". 
Scaleway claims to have the most advanced and sophisticated, sovereign, natively S3-compatible object storage solution on the market, for a fraction of the price of the dominant players (€0.013/GB/month). The company says it is "one of the last independent and only European players to deliver a fully in-house built, and end-to-end owned technical stack".
The system implements Erasure Code 6 + 3, to make it resilient to server failure. Each object is split into six fragments, with three additional parity fragments added to guarantee data integrity. If one AZ is lost due to an accident such as a fiber cut, power outage, network failure, or disasters like fire, flood or earthquake, the data can still be rebuilt and remains available.
For users not needing that level of resilience, Scaleway offers a cheaper storage class called One Zone - IA (Infrequent Access), for data that is rarely used and easily recreatable. This keeps the data in a single AZ, for €0.01/GB/month.
Earlier this month, Scaleway launched Elastic Metal, a bare metal service with some cloud attributes, offered at hourly rates and integrated with other Scaleway cloud services.