Latin American firm Scala Data Centers is developing a new campus outside Mexico City, Mexico.
The DigitalBridge-owned company this week announced plans to develop SMEXTP01, the company's first data center in the country.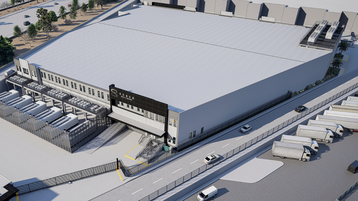 Located in the municipality of Tepotzotlán, the facility will have an initial critical capacity of 5MW across 142,130 sq ft (13,200 sqm).
Scala's new site is projected to begin operations in Q4 2023 and is already anchored by a 'large hyperscale client'. The company said it will be investing $80 million in the project.
"This new project underscores our commitment to enabling new markets in Latin America, either in unexplored locations or in regions with data center presence, but still lacking a dedicated approach to large IT capacities that truly serve the hyperscale segment," said Marcos Peigo, CEO and co-founder at Scala. "We are proud to spearhead this expansion and create unique conditions for massive colocation clients in the region through innovation, energy efficiency, and sustainable technology."
Founded in 2020, the company has since invested around $1.6bn in hyperscale data centers across Brazil, Chile, Mexico, and Colombia. The company expects its data center portfolio to reach 500MW in the next five years.
2023 has seen Scala launch data centers in Curauma, Chile, as well as São Paulo and Rio de Janeiro in Brazil.
The company said it has construction projects underway in Tamboré Campus (São Paulo, Brazil), Porto Alegre city (Rio Grande do Sul state, Brazil), and Lampa (Chile), as well as advanced projects to implement other data centers in Fortaleza city (Ceará state, Brazil), Mexico, and Colombia.