Brazilian operator Scala Data Centers has launched a new facility in São Paulo.
The company this week announced the launch of the 6MW single-tenant SGRUTB05 data center on its Tamboré campus in Barueri City. Spanning 6,700 sqm (72,670 sq ft), the five-story facility offers capacity for 400 racks.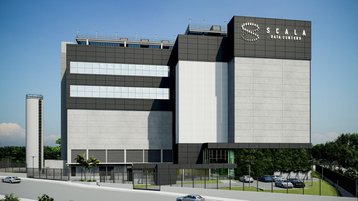 The facility is dedicated to a single hyperscale customer, which also has a reserved capacity of 100MW to be distributed in other data centers at the complex.
The data center uses waterless air-cooling and offers a PUE of 1.4. Scala noted it was the second tallest data center in the country, after SGRUTB04, its neighbor on the same campus.
"As the third operational single-tenant site at the Tamboré Campus, SGRUTB05 reinforces Scala's successful strategy of not only enabling unprecedented volumes in the Latin American market, accommodating the growth of our customer's IT infrastructure for decades, but also offering a secure, fast and flexible approach through multiple constructions," said Marcos Peigo, Scala's CEO and co-founder.
The company was formed by Digital Colony (now DigitalBridge) in 2020. Scala now has seven data centers in operation, four of which are based at Tamboré Campus, one in São Paulo city, one in Campinas city (also São Paulo state), and another in São João de Meriti in Rio de Janeiro state.
SGRUTB04, previously known as SP4, went live on the Tamboré campus in August 2022. According to Scala's website, the 24MW SGRUTB08 and 6MW SGRUTB12 are also due live on the campus this year, while the 20MW SGRUTB06 is set to come online in 2024.
The company said it has projects in development in Porto Alegre city in Brazil's Rio Grande do Sul state and Curauma and Lampa in Chile, as well as plans for data centers in Jundiaí city in Brazil's São Paulo state, and in Chile, Mexico, and Colombia.
According to its website, Scala is set to see six other facilities go live in 2023; SPOAPA01 in Porto Alegre, SVCPJD02 in Jundiaí, SFORPF01 in Fortaleza, SSCLCR01 in Curauma, SMEXTP01 in Mexico's Tepotzotlán, and SBOGZM01 in Colombian capital Bogotá. Another 30+ data centers are in various stages of development across the region and are set to go live before 2030.