Satcoms equipment maker SatixFy this week went public via a Special Purpose Acquisition Company (SPAC), while space-relay constellation provider SpaceLink looks set to wind down operations.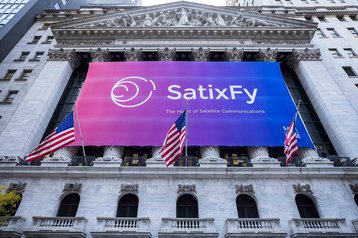 SatixFy goes public
SatixFy this week completed its merger with Endurance Acquisition Corp and has joined the New York Stock Exchange (NYSE).
SPACs are shell companies that list on the stock market with the intention of acquiring companies that wish to go public quicker than the traditional IPO process.
Established in 2012, SatixFy provides modems and an Electronically Steered Multi-Beam Antenna Array (ESMA) product line via custom ASICs and RFICs chipsets. It also offers a satellite IoT terminal and In-Flight-Connectivity (IFC) solutions. Its customers include OneWeb and Telesat.
Endurance was founded by Antarctica Capital and went public last year in a $200 million IPO. The merger with SatixFy was announced in March 2022.
"This is an exciting time for the satellite communications industry, with the emergence of LEO mega-constellations creating a massive opportunity for SatixFy's next-generation technologies," commented David Ripstein, CEO of SatixFy. "Our unique chips, antennas, and satellite payloads are critical for scaling the performance of the new satellites while reducing their operational costs, making 'everywhere, all-the-time' communications practical for diverse types of customers and applications. We are confident that this will drive growth for SatixFy, and create significant value and transparency for our existing and new customers."
David Ripstein will continue in his role as SatixFy's CEO, Yoav Leibovitch will serve as Executive Chairman, and Endurance's CEO Richard Davis will join SatixFy's Board of Directors. SatixFy's co-founder former CEO Yoel Gat, who previously founded Gilat Satellite Networks and RaySat Inc., passed away from Cancer in April 2022 shortly after the merger was announced.
"Antarctica Capital and the Endurance team are looking forward to continuing our work with SatixFy as they begin this exciting new chapter," said Richard Davis, Managing Director of Antarctica Capital, CEO of Endurance, and now a member of SatixFy's Board of Directors. "SatixFy's unique technology is a key enabler for next-generation satellite communications, and its new platform as a publicly-traded company gives it the financial strength needed to close business with the industry's largest players."
As well as $200 million IPO proceeds, SatixFy will receive $29 million in gross proceeds from institutional investors via a private placement investment (PIPE) round from investors including Sensegain Group and Antarctica Capital. In addition, the company has received a Committed Equity Facility of $75 million from CF Principal Investments LLC, an affiliate of Cantor Fitzgerald, and received $55 million from Francisco Partners in the form of a secured term loan.
Cantor Fitzgerald acted as Endurance's capital markets advisor. Davis Polk & Wardwell LLP and Gross & Co served as SatixFy's legal counsel and Morrison & Foerster LLP and Meitar Liquornik Geva Leshem Tal served as Endurance's legal counsel.
SpaceLink to wind down
This week saw Electro Optic Systems (EOS) announce that its satellite relay venture SpaceLink would be winding down operations if a new investor couldn't be found.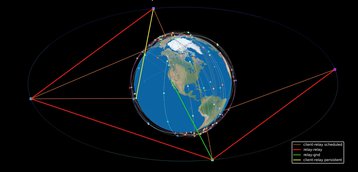 EOS acquired Silicon Valley satellite startup Audacy in May 2020 and announced plans to create a new satellite communications constellation. It founded SpaceLink later that year, with former OneWeb Vice President David Bettinger as its CEO.
The company aimed to develop a medium Earth orbit data-relay service to provide direct access from LEO satellites to the ground, and planned to establish its initial data-relay constellation with three satellites in 2023. However, EOS is planning to wind down the unit.
"The company intends to cease investment in SpaceLink in November as it has (as of the date of this announcement) been unable to secure an investment partner," EOS said in an ASX update this week.
In September, EOS said it would focus on its core businesses of Defence Systems and Space Systems rather than on SpaceLink and was seeking strategic investors in the unit. The company has been unable to find an investor and intends to cease funding for the business.
"We had a great team and great technology, but unfortunately we didn't have a lot of a lot of runway from the parent company, who is having their own financial difficulties," SpaceLink CEO Dave Bettinger told SpaceNews.
EOS and SpaceLink haven't shuttered the unit yet, and would still be open to new investors.
"We would certainly like to be able to talk to any serious investor that shares our vision of carrying this program on," Bettinger said.
SpaceNews said SpaceLink would need approximately $70 million in the near term to complete its contracts with satellite vendors, make down payments on launches and purchase long-lead items.
In all, about $250 million would be required to complete the SpaceLink constellation. If that investment were made, SpaceLink expects to generate revenues of $150 million a year.
"There's no question that the market is there and that the need is there," said Tony Colucci, SpaceLink chief strategy and commercial officer. "Five years from now, there will be a commercial service moving data for remote sensing, moving data for human spaceflight, etc."
In October, SpaceLink was was awarded a $190,000 contract by NASA Goddard Space Flight Center (GSFC) to study how commercial optical ground terminals will integrate into the Near Space Network. It has previously worked with DARPA and the US Army.
"SpaceLink has demonstrated current and state-of-the-art experience and technologies for space-based optical communication link and services," said Dr. Ruma Das, CIS Deputy Office Chief at NASA Goddard Space Flight Center. "We selected SpaceLink for the capabilities study award based on its considerable organizational capabilities and highly-qualified key personnel for information related to Optical Communications and road mapping to ground segment integration techniques and concepts."