Samsung Electronics has started production of a 30.72TB solid state drive (SSD) – the highest capacity 'standard' storage drive to be announced to date.
The device with a memorable name 'PM1643' relies on 512Gb V-NAND chips, combined into 1TB packages. The drive squeezes 32 of these packages into a standard 2.5-inch form-factor – meaning it could be installed into a wide variety of current systems, including consumer-grade PCs.
The first crop of new SSDs is primarily aimed at high performance enterprise storage servers.
Serious storage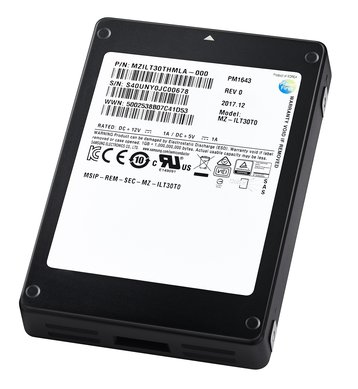 Samsung is the world's largest supplier of SSDs. At the end of 2017, the company emerged as the largest semiconductor manufacturer in the world, unseating CPU giant Intel thanks to a shortage of memory chips.
Samsung's V-NAND is made by stacking memory cells on top of each other, in as many as 64 layers. The technology enables chip designers to reduce production costs and improve performance and longevity of silicon when compared to traditional or 'planar' NAND.
PM1643 delivers twice the capacity and performance of Samsung's previous high capacity drive, the PM1633a, launched in March 2016.
The latest SSD relies on SAS connectivity and features 16 stacked layers of 512Gb V-NAND chips per 1TB package, along with a massive 40GB chunk of DRAM. The device features a new storage controller that integrates nine controllers from the previous SSD flagship, and promises two million hours mean time between failures (MTBF).
According to Samsung, PM1643 can deliver random read and write speeds of up to 400,000 IOPS and 50,000 IOPS, and sequential read and write speeds of up to 2,100MB/s and 1,700 MB/s, respectively.
"With our launch of the 30.72TB SSD, we are once again shattering the enterprise storage capacity barrier, and in the process, opening up new horizons for ultra-high capacity storage systems worldwide," said Jaesoo Han, EVP for Memory Sales and Marketing Team at Samsung.
"Samsung will continue to move aggressively in meeting the shifting demand toward SSDs over 10TB and at the same time, accelerating adoption of our trail-blazing storage solutions in a new age of enterprise systems."
Even though Samsung is the first to announce a 30TB SSD, the capability to produce high capacity 512Gb NAND chips is not exclusive to the company: Western Digital started production of similar chips in 2017, based on its own BiCS3 architecture.