Samsung Electronics has announced the availability of a 15.36TB solid state drive (SSD) in a 2.5-inch form factor. The PM1633a is the largest capacity 'standard' SSD available for enterprise use.
The South Korean company has released plenty of specifications, except the price. The drives will be sold through Samsung resellers so prices will filter through but the channel is not expecting tags below £15,000.
The 2.5inch format could offer a good return in terms of sustainability and space with the potential of twice as many units fitting into a 2U slot with12Gbps Serial Attached SCSI (SAS) interfacing.
Dies to die for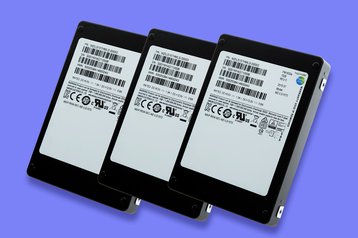 According to Samsung's lab figures, this drive could output random read and write speeds of up to 200,000 and 32,000 IOPS respectively. Sequential read/write speeds shift up to 1,200MB/s, delivering two to 10 times as much data as typical SATA SSDs based on planar MLC and TLC NAND flash technologies.
Jung-bae Lee, senior vice president for the memory product planning and application engineering team at Samsung, was keen to belay supply concerns: "To satisfy an increasing market need for ultra-high-capacity SAS SSDs from leading enterprise storage system manufacturers, we are directing our best efforts toward meeting our customers' SSD requests."
The third generation PM1633a features 256 gigabit (Gb) Vertical-NAND memory, unlike the previous generation PM1633, which used 128Gb dies. The 256Gb dies are stacked in 16 layers to form a single 512GB package, with 32 of these packages in each drive.
Samsung says that the drive supports one full drive write per day (DWPD), which means 15.36TB of data could be written every day onto a single SSD without failure, offering an improvement in cost of ownership for enterprise storage systems. It also has a highly dependable metadata protection mechanism in in addition to a data protection and restoration software tool to counteract momentary blackouts and to make enterprise systems more stable and manageable.
The PM1633a is the first in a range of capacities that will roll out over the next year. This range will comprise 7.68TB, 3.84TB, 1.92TB, 960GB and 480GB versions to offer more choice and lower-cost options.