Salesforce is due to spend $800 million in leasing offices and data centers this year, and has seen its service delivery costs increase as it continues to grow.
The company announced fourth-quarter revenue of $7.33 billion – up 26 percent year-over-year – and FY22 revenue of $26.49 billion - up 25 percent Y-o-Y. In its most recent Form 10K filed with the SEC, Salesforce said its cost of revenues increased from $5.43 billion to $7 billion (equivalent to 27 percent of total revenue).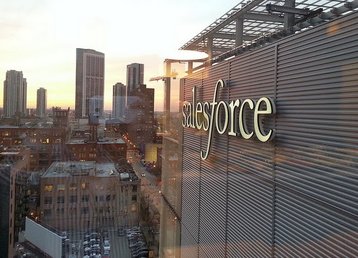 The company said that was largely down to employee-related costs, post-acquisition integration, stock, and service delivery.
"For fiscal 2022, the increase in cost of revenues was primarily due to...an increase of $284 million in service delivery costs primarily due to our efforts to increase data center capacity, and an increase in third-party fees," the company said in the filing.
"We have increased our headcount associated with our data centers, customer support, and professional services by 43 percent since fiscal 2021 to meet the higher demand for services from our customers, and our fiscal 2022 acquisition of Acumen also contributed to this increase."
The company also spent $4.46bn on R&D, up from $3.59bn the year before, again partly down to its data center expenditures.
"For fiscal 2022, the increase in research and development expenses was primarily due to an increase of approximately $501 million in employee-related costs, an increase of $215 million in stock-based expenses, increases in our development and test data center costs," the company said.
Salesforce said it intends to "continue to invest additional resources in our enterprise cloud computing services and data center capacity" in order to scale with customers and improve security.
The company said it provides its CRM services from infrastructure designed and operated by the company and hosted within third-party data center facilities as well as via cloud computing platform partners (Salesforce uses AWS as its primary cloud platform).
As of January 31, 2022, the company said it has non-cancelable minimum payment commitments of approximately $4 billion for its office, colocation, and development and test data center leases, with payments of $800 million due in the next 12 months.
As of January 31, 2022, the company has additional operating leases that have not yet commenced totaling $1.1 billion. It also noted other contractual agreements – including with infrastructure service providers – totaled $5.8 billion, of which payments of $1 billion are due in the next 12 months.
When identifying risks, the firm noted that it has disruption around its IT hardware due to supply chain issues caused in part by Covid-19. It noted the conflict in Ukraine may exacerbate the issue.
"In addition, supply chain disruptions due to the Russian invasion of Ukraine and any indirect effects may further complicate existing supply chain constraints," the company said.