Ruselectronics, a division of Russia's state-owned Rostec Corporation, has developed a compact supercomputer with a theoretical peak performance of 2.2 petaflops, and data storage capacity of up to 2.2 petabytes.
The company said that the compute module, measuring 1.9m by 1.35m by 1m, could be used by the defense sector, the space industry, smart cities, research and educational institutions.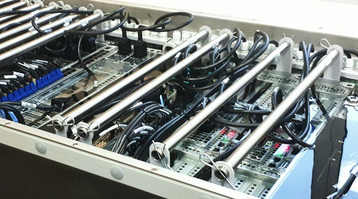 Made in Russia
"Our supercomputer has the widest scope, including in the space industry," Oleg Yevtushenko, executive director of Rostec State Corporation, said in a statement (translated).
"For example, it can be used to automatically recognize objects in satellite imagery, simulate spacecraft and assess the state of their onboard systems.
"The development has a modular construction, it is equipped with unique systems for maintaining operability - this allows you to create a mobile computing system of any capacity, for any purpose, anywhere in the world."
The system relies on immersion liquid cooling, "which allows you to create mobile computing centers based on conventional container bodies outside specially equipped premises," the company said. It is unclear which processor technology the system uses, or the benchmarks used for its performance claims.