Round Rock City Council has approved the rezoning of a property next to Dell Technologies' global headquarters so that it can be used for a data center.
Switch's 'The Rock' data center in Texas will span 1.5 million square feet (140,000 sq m), and is part of a growing partnership between the data center operator and new-neighbor Dell.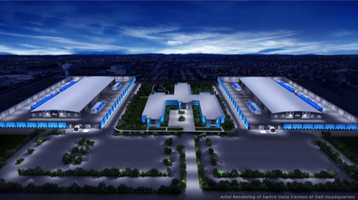 The council unanimously voted to approve the rezoning of two plots of land totaling 35.71 acres, from commercial C-1 to a planned unit development. The city does not have a specific zoning designation for data centers.
"This just makes it clear that the use would be allowed on the property, basically creating a customized zoning district to allow for the data center," Round Rock Planning and Zoning Commission, Planning and Development Services director Brad Wiseman said at the council meeting, local publication Community Impact reports.
The two plots are on either side of the Dell facility, and come after Switch and Dell teamed up to build Edge data centers at FedEx locations across the US.
Switch is also expanding elsewhere in Texas, and is in the midst of acquiring Texan data center company Data Foundry for $420 million.
Together with The Rock and DF's ~60MW facilities, Switch will operate 2 million sq ft (185,000 sq m) of space and 185MW of power in the state.
"This is another transformative milestone in the growth of our company to further expand our geographic diversity to the central region of the US," Switch founder and CEO Rob Roy said when the facility was first announced last month.
"To be strategically located alongside the Dell Technologies global headquarters is an opportunity to continue broadening our offerings of the world's most advanced data center infrastructure to current and future Switch clients."