Alibaba is reportedly considering establishing a cloud region in Israel.
Globes reports the Chinese company has been mulling the move for a number of years, but Covid-19 delayed a decision.
The publication said it would take around 18 months to establish a new region in the country, with a target date for launching services – should Alibaba Cloud decide to go-ahead – of 2024.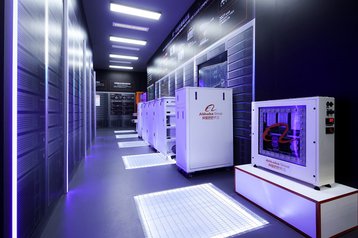 Rather than build its own facility, the company is reportedly aiming to host its infrastructure at one of the facilities currently being built in Israel by companies such as SDS, KKR, Med One, Global Data Center, and ServerFarm. Globes said the company would be unlikely to exceed 4MW of capacity in the near term.
Alibaba's existing cloud region nearest to Israel is located in Dubai. This year the company has announced plans for or opened new facilities in the Philippines, Indonesia, South Korea, and Thailand. It has 13 available Cloud regions and 25 Availability Zones outside of mainland China.
AWS, Google, Microsoft, and Oracle are all developing Cloud regions within Israel as part of efforts to compete for the $1.2 billion Nimbus cloud contract from the Israeli Government. The tender was eventually jointly awarded to AWS and Google.
Microsoft has faced delays to its planned data center in the country, while development on AWS and Google facilities are ongoing. Google's development in Moshav Bnei Zion is facing opposition from locals, however.
Despite missing out on the contract – and failing in efforts to mount a legal challenge on that decision – Oracle opened its Jerusalem data center earlier this month. A second Oracle facility in the country is planned within the next couple of years.
Globes noted Alibaba Cloud was not interested in competing for the Nimbus tender because the close relations between Israel and the US would not have allowed the tender to have been awarded to a Chinese company.