British thermal management expert EkkoSense has partnered with French load bank specialist Rentaload to offer a combined service to data center operators.
Under the terms of the partnership, Rentaload will integrate the software and sensors from EkkosSense into its thermal simulation packages, offering a more accurate picture of cooling performance and airflow.
"EkkoSense's SaaS software is simple to deploy and use, providing us with a smart solution to build out our Rentaload proposition. We look forward to sharing its undoubted benefits with our many customers across Europe," Pierre-Luc Barbe, general manager at Rentaload, said.
The announcement was made at the Data Centers 2018 conference in Dublin.
Hot stuff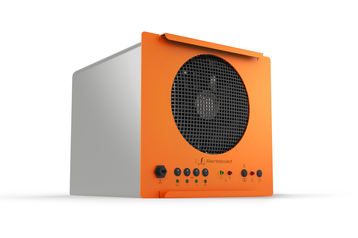 Nottingham-based EkkoSense develops software tools for the critical infrastructure market. Its flagship product is EkkoSoft Critical, a cloud-based platform for monitoring, management and optimization of cooling, able to create real-time 3D visualization of heat flows using a network of low-cost sensors.
Meanwhile Rentaload approaches the subject from a different angle: the company simulates data center operations using load banks – sophisticated, rack-mounted electric furnaces that can replicate the power consumption and heat output of server cabinets.
This approach is frequently used in data center power acceptance testing during initial construction, renovation or maintenance.
"Applying Rentaload's proven load bank technology is a great way for organizations to test the actual future load of their data centers, and directly test whether their initial power and cooling provision is adequate and compliant," Dean Boyle, CEO of EkkoSense, said.
"Through this partnership, Rentaload will now be able to take advantage of EkkoSense's powerful front-end software, on site telemetry, low-cost 3D visualization, power monitoring and cooling analytics to deliver further value for their customers.
"Adding our wireless sensors and EkkoSoft Critical cloud software to the portfolio will also allow Rentaload to provide their customers with deep insight into their data center cooling, power and space performance, with an ongoing tool to monitor, manage and maximize their critical M&E investments."
Last month, EkkoSense introduced a £2,500 (US$3,180) 'starter pack' for data center operators that gives access to its software, and enough sensors to equip 5-10 racks.