Power distribution specialist Raritan has launched a new system for managing remote servers, routers, switches and other devices with serial ports.
The Dominion SX II is described as an IP-based console that makes high-speed connections to IT devices from anywhere, helping administrators resolve problems faster. It's an upgrade of the Dominion SX, which is currently used by IT and network administrators to manage half a million serial devices, including network switches, routers, firewalls, servers, power distribution units (PDUs) and telecoms equipment.
Managing through the serial ports allows IT specialists to monitor devices when the network is down. Unresponsive devices can also be powered off using the SX II's control of the electricity supply to each device on a network.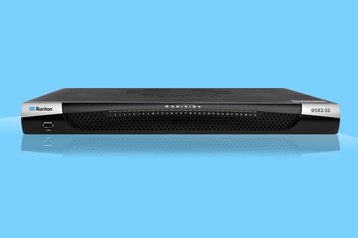 More speed, less downtime
All thirteen SX II models come with dual-power supplies (AC or DC), dual gigabit LAN connections with automatic failover and multiple methods of at-the-rack access. Models with internal modems are also available.
The rack-mountable appliance features a 1GHz CPU, 8 GB of on-board flash storage and eight times more RAM than the previous model.
It can support 10 sessions per port and 200 total serial sessions. The new model can be up to 23 times faster than its predecessor thanks to its ability to establish simultaneous connections quicker than previously possible, while using serial processing.
Access is made simpler via a command line interface, and auto configuration allows for faster installation and simpler hardware changes.
The Dominion SX II comes in 4, 8, 16, 32 and 48-port models and is available through Raritan's reseller channel.
"Companies can dramatically reduce IT support costs, staff travel time and improve business uptime," said Richard Dominach, director of product management at Raritan.
If you are interested in learning more watch our free webinar on "Designing Flexibility into your Data Center Power Infrastructure".