RagingWire, one of the world's largest colocation providers, officially opened its latest data center in Sacramento – literally cutting the ribbon during a gala event last night.
More than 600 attendees got a first glimpse at the 180,000 sq ft data center known as CA3. They included local government leaders, industry analysts, media, company staff and customers, in addition to vendor representatives and other partners within the data center industry.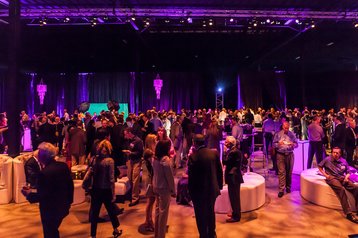 The colocation facility is RagingWire's latest addition to the Sacramento data center campus known as "The Rock." CA3 has been fully integrated with its CA1 and CA2 siblings, for a total of 680,000 sq ft of data center estate – making it the largest campus in California.
CA3 is a raised-floor facility that can host 14 MW of critical IT load and offers a 69kV power substation, 70,000 sq ft of server space, and 10,000-ton cooling capacity. The technical specs of CA3, however, are just footnotes in this latest data center expansion for Japan-based NTT Communications (NTT Com), which purchased RagingWire in late 2013.
For weeks, sources who have been inside the facility have told DatacenterDynamics that CA3 is a revolutionary shift in design, appearance and accessibility. One source even referred to it as the "Crystal Cathedral" of the data center industry.
Cutaway Data Center
Well maybe not crystal, exactly. Perhaps it's more of a glass palace, as RagingWire's Billl Dougherty explained. As senior VP and CTO, he is responsible for the company's Operations Control Center, IT architecture and service delivery staff.
"I think we have really raised the bar for what a colocation data center can and should be," Dougherty told DatacenterDynamics. He said CA3 is an example of RagingWire's latest design methodology, and employs the "cutaway data center" principle.
In most data centers, he observed, visitors must enter into secure areas to view the facility's features. "We designed CA3 such that we can show it off and tour it, and let a partner or customer see every critical space without having to enter a secure area," explained Dougherty.
And the key to accomplishing this goal? Glass, glass, and more glass.
Transparent corridors throughout the data center give visitors a chance to take a closer look at its technical features, without compromising security. Dougherty pointed out, for example, that visitors first encounter a glass wall that allows them to look directly under the raised floor in CA3.
Next is the location's Executive Briefing Center, where more glass gives insight into the network operations center. "What you get is almost a 200-degree view of the data center floor from here – and you can see the entire vault," he adds.
Following the briefing center is perhaps CA3's most unique and buzz-worthy feature: a glass-enclosed sky bridge that juts out above part of the data center floor. From here, Dougherty continued, his company's staff can explain how cages are wired, or demonstrate how customer data is protected.
"The sky bridge is secure enough that during tonight's opening tours, attendees will be able to carry their glass of champagne into it – now that's something you would never have allowed above a data center floor before."