Dutch quantum computing firm QuiX Quantum is to build a data center at its headquarters in Enschede.
Announced this week, the company and QMware will collaborate to develop the "first fully integrated, hybrid quantum-classical platform." According to QuiX, the hybrid architecture will 'integrate high-performance computing (HPC) infrastructure with native quantum computing technology.'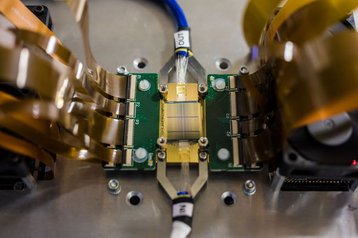 The new data center is expected to be fully operational for commercial applications in August 2023. Details around the specifications of the data center or the hardware being deployed weren't shared.
QMware will colocate on-site HPC hardware with QuiX Quantum's room-temperature photonic-based technology. The different hardware types will be integrated with shared memory access through QMware's proprietary software.
QMware will use a broadband, low-latency optical fiber connection to directly attach the HPC infrastructure with simulated and native quantum hardware.
"We believe that the Photonics Quantum Processing Units by QuiX Quantum, integrated into QMware's Hybrid Quantum High-Performance Computers, are one of the most promising technologies to provide commercially sustainable quantum computing advantage," said George Gesek, chief technology officer and co-founder of QMware.
Dr.-Ing. Stefan Hengesbach, CEO of QuiX Quantum, added: "We are excited to be working with QMware on this groundbreaking project. We are fully committed to making native quantum hardware accessible for early industrial applications. QuiX Quantum's technologies make quantum hardware integration into existing data centers a reality today."
Based at the University of Twente, QuiX Quantum was founded in 2019. Also founded in 2019 but based in St. Gallen, Switzerland, QMware offers quantum hardware, quantum simulators, and software development tools and services. It also provides access to its hardware through a cloud portal, which includes 40+ qubit systems.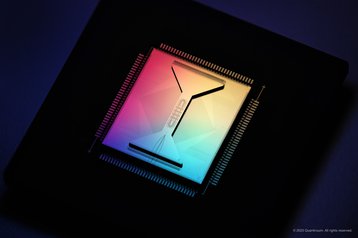 In other recent quantum news:
- Atos spin-off Eviden has renamed Atos' quantum offerings to Qaptiva. The Atos Quantum Learning Machine simulation appliance is now known as the Qaptiva 800.
After forming a partnership with IQM Quantum Computers in 2022, Eviden said it is now also collaborating with Quandela and Pasqal for joint commercial offers.
- Honeywell-owned Quantinuum has launched its second-generation quantum computer. The H2 offers 32 qubits. The company claims the system – which uses a new oval racetrack-shaped ion trap – is the highest-performing quantum computer ever built.
According to Business Insider, the H2 occupies around 200 sq ft in a data center in Denver, Colorado. It is reportedly one of two prototype machines in the facility.
- US startup SEEQC has deployed a quantum computer in Italy. SEEQC System Red has been installed at the company's R&D lab in Naples.
- Quantum Brilliance has appointed co-founder and former COO Mark Luo as CEO, with former CEO and co-founder, Andrew Horsley, becoming CTO.
- IBM has signed EY as a quantum customer and will give the consultant firm access to IBM quantum systems through a cloud portal.
- Israeli startup Quantum Source has raised $12 million. The seed extension investment round was led by Dell Technologies Capital with participation from 10D as well as existing investors Eclipse VC, Grove Ventures, and Pitango First. Founded in 2021 and working on photonic-based systems, the company has raised a total of $27 million.
- The US Department of Energy's Argonne National Laboratory has launched a quantum lab. The 6,000-square-foot Argonne Quantum Foundry will accelerate advances in quantum information science.