Quantum computing company D-Wave could be de-listed from New York Stock Exchange (NYSE) over its low share value.
The company this week announced that it received notice from the New York Stock Exchange on March 16 that it is 'not in compliance with Section 802.01C' of the NYSE Listed Company Manual.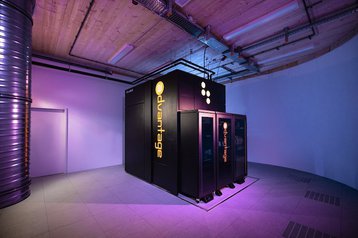 The company has fallen foul of NYSE trading rules because the average closing price of its common stock was less than $1 over a consecutive 30 trading-day period.
While the notice does not result in the immediate delisting of the company's stock from the NYSE, it needs to regain compliance within the next six months by having a closing share price of at least $1 and an average closing share price of at least $1 over a 30 trading-day period.
"On March 20, 2023, the company notified the NYSE that it intends to cure the stock price deficiency and to return to compliance with the NYSE continued listing standard," the company said. D-Wave added it intends to 'consider available alternatives' including a reverse stock split, which reduces the number of a company's outstanding shares in the market.
D-Wave, which offers quantum machines that utilize quantum annealing, went public in August 2022 after a SPAC merger with DPCM Capital. After reaching highs of $8.18 per share in October 2022, the company's share values have tumbled and have been below $1 since mid-February. The company's market cap is currently just under $60 million.
The company is yet to post its Q4 2022 quarterly results, but posted revenues of $1.7 million in Q3 2022, up from $1.3 million in 2021 and $1.4 million in Q2 2022.
Gross profit for the third quarter of fiscal 2022 was $1.1 million, but the company posted a Net loss of $13.1 million and an Adjusted EBITDA loss of $12.4 million. Net loss for the second quarter of fiscal 2022 was $13.2 million; adjusted EBITDA for the second quarter of fiscal 2022 was a $10.8 million loss.
Last month, fellow quantum computing firm Rigetti faced a similar delisting from the Nasdaq after its stock had been trading below the required $1 threshold for around two months.
It seems the company's stock traded above $1 for 10 consecutive days in early-to-mid February, allaying immediate delisting fears. However, since the end of February, the company is again trading at below $1 per share, which could lead to delisting over a prolonged period.
NYSE-listed IonQ and Nasdaq-listed Quantum Computing Inc are the other two publicly-listed pure-play quantum computing firms. The likes of Honeywell and IBM offer quantum computing hardware and services as part of a wider portfolio.