The first Internet exchange point in Qatar is now live, operating out of the Meeza data center in Doha.
QIXP is the first of several exchange points expected later this year as part of the Qatar National Vision 2030 initiative.
Connecting Qatar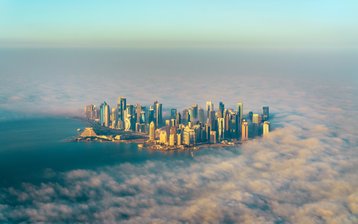 "We are pleased to launch the first QIXP, which is a new achievement in developing the essential components of Internet infrastructure in the Information and Communications Technology Sector (ICT) of Qatar," the Minister of Transport and Communications Jassim Seif Ahmed al-Sulaiti said.
"This project will contribute to further improve the country's international network readiness rankings and to attract global content providers, in addition to enabling the new generations for creativity in the digital content realm and building up the aspired digital future, thus contributing to achieving Qatar National Vision 2030 goals by providing a world-class infrastructural and informatics backbone and a knowledge-based economy that contributes to diversifying the national economy."
Work on the Internet exchange began in 2018, when the QIXP Steering Committee was formed by Cabinet decree.
Committee members attended the exchange's launch, including representatives of the Qatar National Broadband Network (QNBN), Qatar Computing Research Institute (QCRI), Ooredoo Qatar, Vodafone Qatar, and Gulf Bridge International (GBI).
Committee chairman Abdulla Jassmi said: "We are taking sustainable steps towards contributing to the development of a knowledge-based society, because Internet exchange points reduce the cost of interconnection and help in creating the digital environment to enable the future generations to be creative in the world of digital content."