Pure Data Centres has launched a facility in Jakarta, Indonesia.
"Pure DC officially launched its first hyperscale data center in Indonesia last week! With 20MW IT load capacity, it is ready to support digitalization and cloud computing in the region," Chandra Irawan, Pure's country manager/director for Indonesia said on LinkedIn.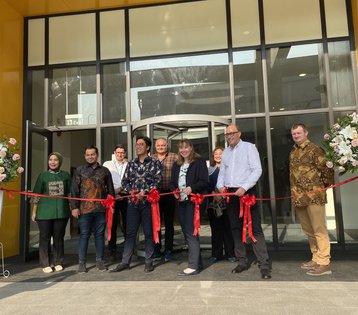 Pure CEO Dame Dawn Childs added: "Fantastic to visit Chandra Irawan and the team out in Jakarta and officially open our hyperscale data center there. The first for Pure DC in that region."
In April 2021, Pure and APAC logistics real estate firm Logos announced plans to build the data center in the Indonesian capital. The 20,000 square meter (215,000 sq ft), 20MW project was originally set to be ready for customer operation in Q1 2022.
The two companies later announced plans to partner for data centers across APAC, though further details weren't revealed at the time.
Logos owns, develops, and leases logistics properties across Australia, China, Singapore, Indonesia, Malaysia, Vietnam, India, and New Zealand. Its investors include fund manager ARA Asset Management and Canadian real estate firm Ivanhoé Cambridge.
Pure was established in 2015 and is backed by funds managed by Oaktree Capital Management. The London-based company currently has more than 250MW of IT capacity in operation or development in markets across Europe, North America, Asia, the Middle East, and Africa.
According to its website, Pure is planning facilities across APAC in Ho Chi Minh City and Hanoi, Vietnam; Hong Kong; Taipei, Taiwan; Seoul, South Korea; and Osaka and Tokyo in Japan.
Logos majority-owner ARA Asset Management was acquired by ESR in 2021. ESR is also planning to use its real estate footprint to create an APAC data center platform, and has partnered with Stack Infrastructure.
ESR and Logos are part of a number of logistics & warehouse industrial real estate firms looking to move into or expand their existing presence in the data center space. The likes of Segro, GLP, Prologis, P3, and others are also looking to develop facilities in the US, Europe, and Asia Pacific.
More in Construction & Site Selection