Real estate investment firm BET Investments Inc. has agreed to buy Prudential Insurance Co.'s 90-acre campus in Upper Dublin in Pennsylvania.
First reported by Biz Journal, Prudential is selling the property at 2101 Welsh Road, which has three interconnected office buildings totaling 861,000 square feet (80,000 sq m) that are partially occupied by the insurance company along with a Tier III certified data center.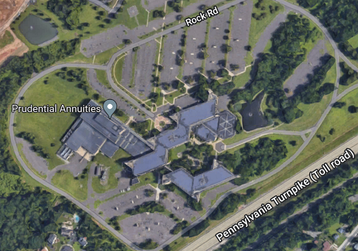 Originally designed by Kling, Prudential developed the buildings between 1972 and 1986 as its Central Atlantic home office. Today the site is partially occupied by the insurance company which is expected to eventually vacate the property. The company also has a Tier III-certified facility in Plymouth, Minnesota.
According to the Prudential site, the company is undergoing a data center migration program; the company has started migrating core infrastructure and mainframes to unspecified new facilities and expects to complete full migrations by 2023. It aims to shut down its legacy facilities in Q2 2023.
BET Investments intends to market it to other users including life sciences companies, Michael Markman, president of BET Investments, told BJ.
BET owns a 225,000-square-foot office building next door at 200 Dryden Road and developed an adjacent mixed-use complex with retail space and apartments known as Promenade at Upper Dublin.
"For us, it's really important," Markman said. "It's the continuation of what we have built here and allows us to connect four great projects together and create an awesome development."
Once combined with the Prudential property, a mixed-use development spanning a total of 200 acres would be created. Markman declined to disclose how much the company is paying for the property since the transaction hasn't closed.