Beyond.pl plans to expand its second data center in Poznań, Poland, as European demand for cloud services continues to rise.
The company, which offers colocation, private, public, and hybrid cloud services across two sites, opened the country's first carrier-neutral data center in 2007, and set out to build the second Poznań facility in 2015, promising it would be the country's largest.
In 2018, Beyond.pl became the first provider in Central Europe to offer cloud services based on Microsoft Azure Stack. It also offers services on Poland's public cloud, e24cloud as well as on VMware.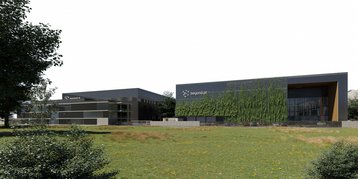 Putting Poznań on the map
Executive vice-president of technology Michał Grzybkowski said that, once completed, the campus will be central Europe's largest colocation space.
Organic growth of digital demand in Poland was rising already, but has sped up further by Covid-19. CEO Wojciech Stramski added: "We are [also] seeing increased interest from global cloud providers, Software-as-a-Service (SaaS) companies, webscalers and large enterprises in general, which are looking to enter and better serve the central European market."
The work will see it quintuple the site's energy capacity from 8MW to 42MW and add twice as much whitespace, expanding it from 12,000 square meters (129,166 square feet) to 45,000 square meters (484,375 square feet).
In order to accommodate anyone from hyperscalers to SMEs, and for the sake of efficiency, the data center will be kitted out with high-density 20kW racks.
The company says its carrier-neutral facilities connect to at least 20 telecoms operators, and that they were awarded the highest ANSI/TIA-942 Telecommunications Infrastructure Standard For Data Centers score in Europe.
The company will make the most of its expansion to make it more sustainable, promising to bring its Power Usage Effectiveness down below 1.2. This, Grzybkowski explained, would not only allow the company to make more efficient use of its equipment, but will bring costs down for its customers too.
"Many large international organizations have made these values a key part of their strategy. As their partner, we help them lower their carbon footprint," Grzybkowski said.