Polaris Realty has received its development permit from the City of Vancouver for its Spencer Building Carrier Hotel in Canada.
First announced in January 2022, the Spencer Building Carrier Hotel is expected to be completed by the end of next year. The Carrier Hotel will serve as the primary Canadian landing point for the brand new Cascadia fiber trunk, connecting to Seattle, the Westin Building exchange, and future Washington landing points.
The Carrier Hotel will be located at the Spencer Building, part of the Harbour Center at 515 West Hastings Street, a location that has previously served as a Spencer, Eaton, and Sears department store, as well as a downtown campus for Simon Fraser University.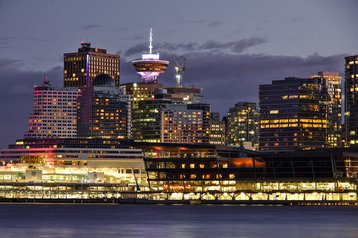 The Spencer Building was originally built in 1907, and due to its gothic revival and art-deco exterior, in 2016 a conservation plan was enacted to preserve the building.
"It's important to us to do things the right way and to go through the proper processes, as a sign of respect to such a historic building," says Harbour Center's director of operations, Antonio Dal Sasso, "This is a heritage building that has served as one of the city's business hubs for over 100 years. It's a part of the fabric of our city, and we're excited to be part of its newest chapter."
Over the last two years, plans have been made in order to turn the multi-story 43,000 sqft (3,995 sqm) building into a data center that will provide cloud and connectivity services to those looking to connect to Vancouver's communication networks and internet service providers. Once complete, the data center will have a total of 10MW of critical power, and the potential to expand to 20MW+. The new development permit will allow Polaris Realty to deploy equipment on the rooftop.
"Receiving this permit allows us to take the next step in our journey," says Chris Jones, director of data center infrastructure and operations. "Our facility will provide access to all the carriers, network operators, cloud onramps and other service providers in order to do business on the West Coast and beyond. The Spencer Building is a symbol of the city itself—it's part of an exciting new technological future, but we're also preserving the rich history of the previous generation that made the city what it is today."
More in The Data Center Construction Channel