Real estate specialist PointOne Developments has officially launched its data center division, PointOne Development Corp, to build hyperscale campuses for major cloud companies.
We first got wind of the company back in January, when planning applications surfaced, proposing a $1.4 to $1.6 billion campus consisting of up to six data centers in Remington, Fauquier County, Virginia.
The company is backed by corporate partners Black & Veatch, NRG Energy, Diode Ventures and Enfinite Capital, and advised by Critical Project Services.
It has secured up to $7.5 billion in funding for data center development and related investments, and is currently evaluating locations for campus designs requiring between 150MW and 300MW of power capacity across the US, Canada, Australia, Ireland and the UAE.
Scaling up at hyper speed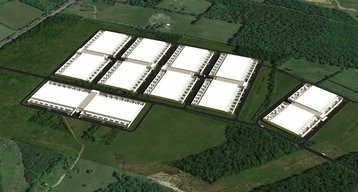 "Our partners rank among the most capable, technologically advanced, and financially secure development organizations in the world," Keith Frieser, chairman and CEO of PointOne Development Corp, said.
"We are pleased and honored to join forces with them to deploy next generation hyperscale data center campuses designed to support cloud-based technology companies."
PointOne claims that its modular approach to mechanical and electrical systems enables construction of data halls in less than 180 days.
"Our goal is to provide best in class Total Cost of Ownership without compromising resiliency, and we are confident that our product fulfills these objectives," Frieser added.
In addition to the Remington Technology Park project, which could be set on the site of an illegal tire graveyard, PointOne is pursuing a development in Acheson, Alberta, Canada. The 307-acre Morgan Creek Technology Park development will be supported by 240MW of utility power.
Beyond these two projects, the company said it is considering sites across the US - in Quincy, Washington; Chicago, Illinois; Fort Collins, Colorado; and Kansas City, Missouri - as well as in Australia (Perth, Sydney); Ireland (Dublin); and the United Arab Emirates (Dubai).