Photonic computing company Lightmatter has raised $154 million in a Series C investment round that triples the company's valuation.
The startup raised the money from SIP Global, Fidelity Management & Research Company, Viking Global Investors, GV (Google Ventures), HPE Pathfinder, and existing investors. The company has now raised more than $270 million to date.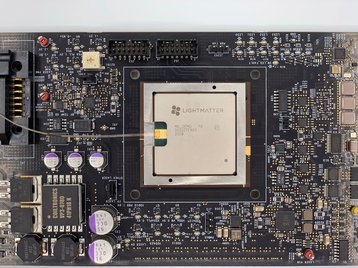 Lightmatter uses light instead of electrical signals for computing, which means that it doesn't face the same resistance (and thus heat) as traditional chip architectures.
The company offers the Envise chip, targeted at AI workloads, and the Passage photonic interconnect, as well as the Idiom software stack for working with its hardware.
Alongside winning over investors, the company has proved enticing to some high-profile engineers - with the company hiring Google Platforms' infrastructure lead, one of the leaders of Google's custom AI chip family, and Intel's VP of engineering in the AI data center group.
"Rapid progress in artificial intelligence is forcing computing infrastructure to improve at an unprecedented rate. The energy costs of this growth are significant, even on a planetary scale," said Lightmatter co-founder and CEO, Nick Harris.
"Generative AI and supercomputing will be transformed by photonic technologies in the coming years, and our investors, partners, and customers are aligned with Lightmatter's mission of enabling the future of computing infrastructure with photonics."
We profiled Nick Harris and Lightmatter earlier this year, and talked to him for the DCD podcast.