One of the leaders of Google's custom AI chip family, the Tensor Processing Unit (TPU), has joined Lightmatter.
After nine years at Google, Richard Ho will move to the photonic computing company to lead its chip engineering division.
Prior to his time at Google, Ho worked at Arm server chip-company Calxeda, supercomputer firm D. E. Shaw Research, and ASIC firm Mentor Graphics.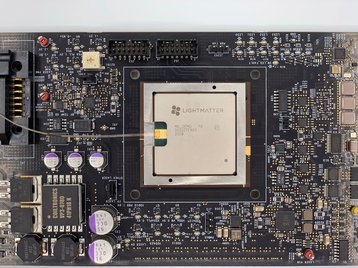 "In many ways, Richard's previous work on the Google TPU project inspired our founding team at Lightmatter to build the products we have today and push the industry forward," Nick Harris, co-founder and CEO of Lightmatter
"We're honored to welcome him to the team. With expertise at the intersection of hardware and software, Richard will be a huge asset as we approach historic milestones this year. He'll be at the helm of executing our chip strategy, helping us expand the footprint of photonic computing globally."
Lightmatter plans to launch its photonic AI accelerator, Envise, this year. It is also developing a programmable photonic interconnect product, Passage.
Instead of using electrons for processing like traditional semiconductors, Envise splits and mixes beams of light to run AI workloads.
The system relies on a device known as a Mach–Zehnder interferometer, first discovered in 1892. Lightmatter fits a number of nanometer-scale Mach-Zehnder interferometers onto a chip, each of which splits light into two different beams.
Each beam goes down a different path, before being recombined. Should the paths be identical, the resulting beam will look like the original input. But if one beam travels a longer distance, it will no longer be in phase with the other.
This difference is used for compute, instead of the 1 or 0 state of an electron-based transistor.
"Advances in AI and machine learning will slow down unless we develop new solutions that can be deployed at scale. The products Lightmatter is developing are ground breaking," said Richard Ho, now VP of hardware engineering at Lightmatter.
"I'm excited to be a part of the company that's completely changing the way the industry is approaching power constraints, and am incredibly impressed with the results the team has already produced."
This month, Lightmatter also hired Intel's VP of engineering, data center, AI group, Ritesh Jain. He was named the new VP of engineering, systems, and packaging this month.
In May it hired Apple finance director Jessie Zhang as VP of finance. A few months earlier, it hired Innovium VP Steve Klinger as VP of product.