Pan-African telco Paratus has broken ground on a new teleport in Pretoria, South Africa.
Local press reported that Paratus has begun construction of its latest "multimillion-rand" satellite teleport facility in Doornkloof, around 50 miles north of Johannesburg.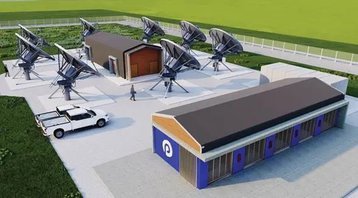 The company said it expects to complete the construction of the facility in August.
Paratus said the new teleport will "deliver reliable and quality satellite connectivity to South African businesses and consumers, even when power outages occur."
Managing director of Paratus South Africa, Kallie Carlsen, said: "As specialist leaders in satellite communications in South Africa and the rest of the continent, our investment in the new teleport comes at a critical time because not only will we be able to ensure the highest quality connectivity, but we will also be able to provide even more services to customers who require a reliable connectivity solution, including during load shedding."
Specifications of the facility weren't shared, but Paratus said the site will be the group's largest satellite infrastructure project to date and will be capable of hosting other providers' and customers' infrastructure.
CEO of Paratus Group, Schalk Erasmus, added: "This teleport is a major investment for the group; it makes our offering in the region unequaled and confirms our strength for providing high quality and seamless connectivity."
Paratus entered South Africa in 2006, and in 2016 acquired local communications provider Maxwell Technology. The company then acquired a teleport in South Africa in 2019, but didn't disclose the location.
On its website, Paratus says its network comprises five teleports, three of which are owned and located in Angola, Namibia, and South Africa. Last year OneWeb signed a deal with Paratus to place a satellite gateway at Paratus' teleport in Luanda, Angola.
The company currently owns and operates four data centers. Last year, Paratus launched a new data center in Namibia, just outside the country's capital city, Windhoek. The Group also has two data centers in Angola and in 2021 completed its Zambian facility. It announced plans to develop another data center in Namibia in 2021; Paratus Namibia also hosts its own Earth station.