OVHcloud has signed a renewable power purchase agreement (PPA) with EDF Renewables.
The 15-year agreement covers the supply of electricity from a 50MW solar power plant in southern France to be built, owned, and operated by EDF Renewables. The facility is due to come online in 2024.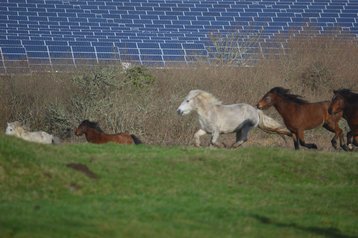 OVHcloud will be supplied with 'competitively priced' renewable energy to power a number of its French data centers, which currently consist of 16 buildings at four locations. OVHcloud aims to obtain 100 percent of its electricity from renewable sources by 2025.
"We are proud to have agreed a long-term partnership between EDF Renewables and OVHcloud and to be supporting its decarbonization drive," said Nicolas Couderc, EDF Renewables' executive vice-president, France. This deal also represents a step forward in the execution of EDF's Solar Plan, which aims to make the Group a leading player in solar energy in France, with market share of 30 percent by 2035."
François Sterin, OVHcloud's Chief Industry Officer, added: "OVHcloud has always invested in achieving energy performance and efficiency standards. We are delighted to be upholding this commitment by securing a competitively priced and responsible energy supply over the long term and working together with a partner of EDF Renewables' caliber."
Most of the large hyperscale players such as Google, Microsoft, AWS, and Meta/Facebook offset all of their data center energy footprints with PPAs. Equinix has set 2030 as its carbon-neutral target date, while Digital Realty has done the same for its European footprint. In February Orange and Engie signed a 15 year, 51MW solar PPA.
OVH, alongside the likes of CyrusOne, Interxion, and a number of other European and international operators, have signed up to the Climate Neutral Data Centre Pact.
Earlier this month EDF Renewables said it planned to migrate some of its IT infrastructure to OVH's Hosted Private Cloud solution in several of its data centers located in France and internationally.
"We are delighted to enter this partnership with the French provider OVHcloud. Their offering will allow us to reinforce the security of our data on a trusted cloud. This project... is particularly involved in the implementation of the Gaia-X ecosystem," said Vincent Gayrard, chief information and digital officer at EDF Renewables.
"We welcome the choice made by EDF Renewables, whose articulated needs led us to work hand in hand to offer a service that meets all the requirements of an energy producer, including hyper-resilience on an international scale while respecting the values of a trusted cloud, which is therefore not governed by any extraterritorial laws," said Caroline Comet-Fraigneau, VP France, Benelux, and Africa at OVHcloud.