Oregon State University is to build a new research center that will house an Nvidia supercomputer, both paid for in part by Nvidia's CEO.
The university this month announced a $200 million research and education center, paid for in part by a $50 million gift from Nvidia founder and CEO Jen-Hsun Huang and his wife Lori, both of whom are Oregon State University graduates.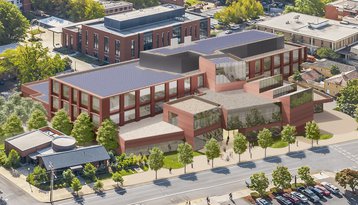 The three-story, 150,000-square-foot (13,935 sqm) center is currently being designed and is anticipated to open in 2025. It will be built in the northwest corner of OSU's Corvallis campus along Southwest Memorial Place and Monroe Avenue, near the intersection with Monroe and Southwest 23rd Street.
The facility will house an Nvidia supercomputer featuring DGX SuperPOD and OVX SuperPOD systems. Nvidia has said the SuperPOD will likely include a mix of around 60 DGX and OVX systems. Specifications haven't been shared.
"We are thrilled by this extraordinary philanthropy and commitment to advancing research discovery and problem-solving," said OSU President Jayathi Murthy. "The Jen-Hsun and Lori Huang Collaborative Innovation Complex at Oregon State University will be much more than a building. It will serve as a university-wide promise and as a hub for advancing groundbreaking solutions for the betterment of humanity, the environment, and the economy."
Water used to cool the supercomputer will help heat more than 500,000 sq ft (46,450 sqm)of building space on OSU's Corvallis campus.
"We discovered our love for computer science and engineering at OSU. We hope this gift will help inspire future generations of students also to fall in love with technology and its capacity to change the world," added Jen-Hsun and Lori Huang. "AI is the most transformative technology of our time. To harness this force, engineering students need access to a supercomputer, a time machine, to accelerate their research. This new AI supercomputer will enable OSU students and researchers to make very important advances in climate science, oceanography, materials science, robotics, and other fields."
OSU will request $75 million in state-paid bonding to match philanthropic and university contributions for the collaborative innovation complex.
Lori Huang is the president of the Jen-Hsun and Lori Huang Foundation. The foundation has previously donated $5 million to build a laboratory for cancer research at Oregon State University, and $30 million for the Jen-Hsun Huang Engineering Center at Stanford University.
In 2019, OSU's College of Engineering said it was acquiring six DGX-2 systems