Clemson University in South Carolina has taken delivery of a Nvidia DGX-2 supercomputer for big data research projects.
The new DGX-2 supercomputer will deliver two petaflops of deep learning performance, and is equipped with 24 CPU cores and 16 Tesla V100 GPU chips, interconnected by Nvidia's NVLink.
Supercomputer arrival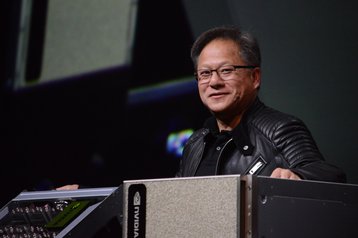 Clemson University ordered the Nvidia DGX-2 back in April, thanks to a $316,000 grant from the Defense University Research Instrumentation Program in the Department of Defense's Office of Naval Research.
The Clemson University DGX-2 supercomputer will be used for research purposes in areas such as computational math, statistics, operations research, and mechanical and industrial engineering.
This is not the only high performance computing device at the university, as Clemson has one of the top four supercomputers at a public institution: The Palmetto Cluster. Housed at the Advanced Materials Research Laboratory in Pendleton, the cluster has some 23,000 CPU cores.
The university is not alone in getting itself a Nvidia DGX-2 supercomputer. Earlier this week, Oregon State University's College of Engineering said it was acquiring six DGX-2 systems to give the college some of the most powerful computing resources among universities worldwide.
"The computing power we now possess will accelerate our research in artificial intelligence and machine learning, while exposing our computer science students to the most advanced technology available in higher education," Professor Scott Ashford, dean of the College of Engineering, said.
"We are committed to continue to drive innovation in both research and education and will do so by providing faculty and students with the state-of-the-art capabilities needed."
Last November, four US national laboratories revealed plans to install Nvidia's DGX-2 systems for scientific workloads.