Oregon's Morrow County Board of Commissioners has approved the zoning of land 11 miles southwest of Boardman from agricultural to industrial.
The zoning change will enable the development of data centers on the site.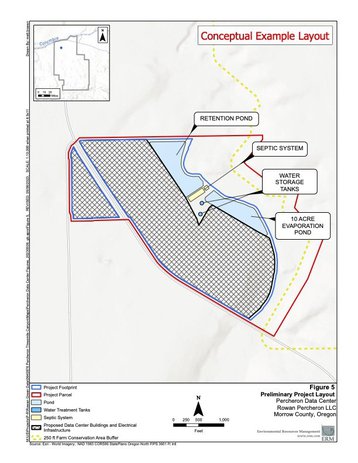 The land in question is 274 acres located on Tower Road to the north of Carty Reservoir and the Carty Generating Station, a 450MW natural gas power plant that has plans to add a 50MW solar farm.
The plot of land was previously owned by Threemile Canyon Farms.
The parcel is to be purchased by Rowan Green Data, a San Francisco-based data center developer who plans to construct a four-building, 1.125 million sq ft (104,500 sqm) data center campus, dubbed the Percheron Data Center. According to the project's website, the land was comprised of "unproductive" soil and had therefore no use for agriculture.
If Rowan can gain the necessary permits without delay, it is currently expected that construction will commence in 2024.
The data center does not yet have any end users. The company's CCO, Bobby Hollis, said in a commission meeting last month: "The kind of customers that align with our vision are the big tech customers you've heard of before. The types of companies we work with are the Microsofts, Amazons, Metas, and Apples — companies that are as sustainable as we are."
Rowan is the result of a joint venture set up by Quinbrook Infrastructure Partners and Birch Infrastructure with a focus on developing hyperscale data centers.
The company is already developing a 500MW campus in Temple, Texas, and has other developments listed on its website across North America including data center projects Meriwether and Schwab in Oregon, Matterhorn in California, and Moriah, Cinco, and Brown in Texas.
More in Construction & Site Selection