The Department of Defense has invited Oracle, Google Cloud, Microsoft Azure, and Amazon Web Services to bid on its Joint Warfighting Cloud Capability contract.
The JWCC was developed after the single-vendor $10 billion Joint Enterprise Defense Infrastructure (JEDI) cloud services contract was canceled following years of legal challenges.
Microsoft won JEDI, but AWS blocked the deal, claiming interference by President Trump. Now both businesses are all but guaranteed to score a slice of the JWCC.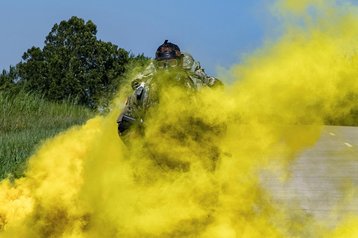 "The Government anticipates awarding two IDIQ [Indefinite-Delivery, Indefinite-Quantity] contracts - one to Amazon Web Services, Inc. (AWS) and one to Microsoft Corporation (Microsoft) - but intends to award to all Cloud Service Providers (CSPs) that demonstrate the capability to meet DoD's requirements," the DoD said in a pre-solitication notice.
"Each IDIQ contract, under which task orders will be placed, is intended to be for a period of performance of one 36-month base period with two 12-month option periods. The Department is still evaluating the contract ceiling for this procurement, but anticipates that a multi-billion dollar ceiling will be required."
The government said that it was only aware of the five US-based hyperscale cloud providers (a list which does not include IBM), and that it still believed only AWS and Azure met all of the DoD's requirements.
"At a high level, the JWCC requirements include providing capability and parity of service at all three classification levels, integrated cross domain solutions, global availability of tactical edge environments and enhanced cybersecurity controls," Danielle Metz, DOD deputy CIO for the Information Enterprise, said in a statement.
The news that Google will compete for the DoD contract comes after the business previously promised to not pursue contracts for "weapons or other technologies whose principal purpose or implementation is to cause or directly facilitate injury to people."
It cited its new AI principles as an excuse for it dropping out of competing for JEDI (even though it could not compete simply because it didn't have the right qualifications). "We are not bidding on the JEDI contract because first, we couldn't be assured that it would align with our AI Principles," a Google spokesperson said in a statement at the time.
JWCC would allow for Google to have more control over which subcontracts it pursues, but DoD rules about sensitive data mean that the cloud provider would not necessarily know what data it stores or workloads it processes.