Japanese ISP Optage Inc. is to build a new data center in Osaka, Japan.
Announced this week, the company said the 'Optage Sonezaki Data Center' will be its fifth facility. Construction is set to begin in November 2023.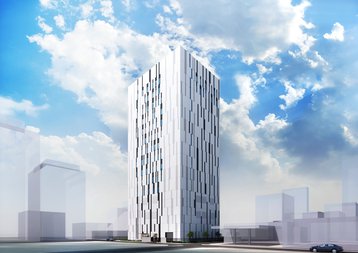 Located in the Higashi-Umeda area of the city, the 14-story carrier-neutral facility will span 24,100 sq ft (2,250 sqm) and feature a seismic isolation design to protect against earthquakes. The data center is expected to open in January 2026.
The company said it will secure certificates for renewable energy – provided by parent company Kansai Electric Power Co – to offset the site's energy use.
This project is a redevelopment plan on land owned by Kansai Television, and will be the first joint project between Kansai Television and the Sankei Building Company. After completion, Optage will operate the facility.
With roots back to 1988 and wholly owned by the Kansai Electric Company (KEC), Optage provides telecommunications services throughout the Kansai region.
Previously known as K-Opticom, with K Square Co and then Kanden System Solutions as the data center business, the company provides Internet, telephone, and TV services using its own fiber network, and also operates as a Mobile Virtual Network Operator (MVNO).
On its website, Optage said it operates the Umeda North Data Center in central Osaka, launched in 2012, and the Shinsaibashi Data Center, again in central Osaka which launched in 2008.
Another Umeda Data Center was 'renewed' in 2009; a post from 2011 said the company operated facilities in Osaka city [Umeda, Umeda North, Shinsaibashi, Shinmachi], Kyoto [Karasuma], Hyogo [Kobe, Himeji], Nara [Nara], Shiga [Otsu], and Wakayama [Wakayama].
What was then K-Opticom partnered with Equinix in 2013 for the colo giant's first IBX facility in Osaka, OS1.