A university testing lab with more than 25 years experience has published a list of interoperable networking products meeting Open Compute Project (OCP) standards have been listed online, making it easier for data center builders to create efficient flexible IT systems.  
The University of New Hampshire's InterOperability Laboratory (UNH-IOL) has published the Open Network Integrator's List - a compilation of products which have been validated as interoperating under the networking standards emerging from the Open Compute Project - the Facebook-backed initiative aimed at creating efficient commodity infrastructure for large data centers. The products were tested at UNH-IOL in an Open Networking plugfest in September, and the list was announced today at an Open Compute Project engineering workshop hosted at Fidelity in Boston.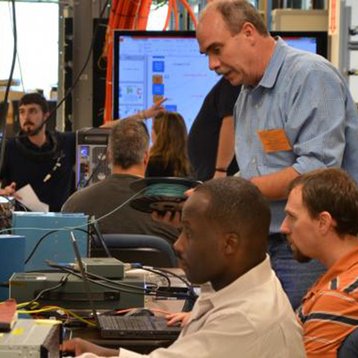 Will it blend?
The OCP has been working on standards-based open source hardware and software for networking since 2013, the OCP networking project chair, Carlos Cardenas told DCD: "We have fully effective projects form hardware software to testing."
The OCP's networking standards have been implemented more widely than other areas of its program, with numerous OCP switches available. 
Among recent announcements, Microsoft used the OCP networking standard SAI (switch abstraction interface) to create a Linux-based distributed network switch system for its Azure cloud. Other network vendors use the Open Network Install Environment (ONIE).
But will open networking products built to meet OCP definitions standards work together? It's a problem that has dogged network standards for many years, and the answer requires testing - whether the product conforms to the standard, whether it works properly, and whether it works with other products. 
OCP faced criticism of its attitude to testing earlier this year, but its supporters claime the criticism was misguided - and the arrival of these open network tests show it has had long-standing efforts in the area. 
OCP started network test work some time ago, and turned to the highly-regarded UNH IOL, which has been running plugfests and publishing interoperability lists for network protocols since 1988. The Laboratory has outlived many of the network standards it worked on (including token ring and FDDI), and now operates many tests on Ethernet protocols, working with organizations including the Metro Ethernet Forum (MEF).  
For the current Open Network tests, UNH IOL uses ONIE to install a NOS on a particular switch and uninstall it, and then take modules for optical and copper cables, testing and measuring them to a very low level, according to David Woolf, senior engineer for data center technologies at UNH.
"Once installed, we will have our own test board we can plug into the switch," Woolf told DCD. Then, after conformance testing, the switch is linked to a second one and the communication between the two is stress tested. "We send traffic patterns at line rate," Woolf told us.
All the tests are published openly, so vendors can apply them in their own labs before they arrive at a plugfest. The two groups have no intention of creating a paid-for brand or label, for OCP products, relying instead on a published list. The UNH IOL's testing work is paid for by vendors who join a consortium that backs its work. 
The Open Network Integrator's List covers products including network operating system (NOS) software, 10G and 40G switches, optical modules, active optical cables, and direct attached copper cables.
The September plugfest was third in a series, and companies that took part included 3M, Accton Technology Corporation, Amphenol, Avago, Big Switch, Cumulus, FCI, Finisar, FlexOptix, HP, Lumentum and Mellanox.
An important aspect of all the UNH IOL test regimes, said Woolf, is the involvement of the University's students. Getting them involved in protocol testing at an early stage seeds awareness of network protocols and an understanding of the importance of interoperability from which the whole industry can benefit. "The other side of our mission is training students in what is happening in the industry," said Woolf.