French Polynesian telecom operator ONATi is expanding the Honotua subsea cable's capacity to 300Gbps.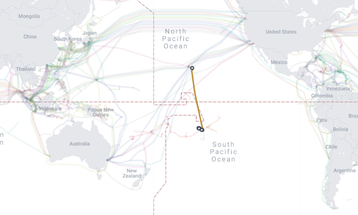 ONATi has selected companies French company Intelia and US-based Ciena to carry out operations, the final stage of which was completed in October 2022.
First laid in 2009, the Honotua international spans 4,500km, connecting several islands of French Polynesia, including Tahiti and Hawaii. The international portion of cable contains a single fiber pair specified for 32x10 Gbps each, with initial lit capacity of 2x10Gbps. The domestic system has two pairs of fibers specified for 8x10Gbps each
The cable has been upgraded using Ciena's GeoMesh Solution and is powered by 6500 Packet-Optical Platform and WaveLogic Ai technology to increase its information-carrying capacity to 300Gbps, and to enable future upgrades of up to 5Tbps.
"This turnkey project is an important milestone for boosting French Polynesia's international connectivity and we are proud ONATi has collaborated with Intelia and Ciena to implement it," said Romain Dhalluin, CEO, Intelia.
The subsea cable system is owned by OPT French Polynesia Group, of which ONATi is a subsidiary, and supplies connectivity to over 220,000 mobile subscribers, 45,000 fixed Internet customers, and 16,000 audio-visual multimedia users.
In September 2022, OPT confirmed it was in talks with Hawaiki Nui, a New Zealand-based subsidiary of BW Digital about the possibility of building a subsea cable that would span 26,000km and connect parts of South-East Asia, Australasia, North America, and potentially French Polynesia.