Hawaiki Nui has confirmed it's in talks with the 'Office des postes et telecommunications' of French Polynesia (OPT) over extending its Hawaiki Nui Submarine Cable LP to the country.
The New-Zealand based company, a subsidiary of BW Digital, is building a subsea cable that will span 26,000km, providing connectivity in parts of South-East Asia, Australasia, and North America.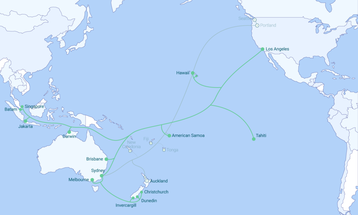 Countries that will be connected by the Hawaiki Nui subsea cable include Singapore, Indonesia, Australia, New Zealand, and the US. It will also potentially feature spurs to American Samoa, Tahiti, and Hawaii.
Hawaiki Nui is now in partnership with OPT to assess the potential for French Polynesia to be added to this list.
French Polynesia's international network is currently based on the Honotua cable from Tahiti to Hawaii, and the Manatua cable from Tahiti to the Cook Islands, Niue, and Samoa.
"We see this partnership bringing together our respective powerful competences in telecommunications infrastructure to design a new transpacific digital highway that will capitalize on, and underscore, French Polynesia's strategic location," said Hawaiki Nui CEO Remi Galasso.
OPT CEO Jean-François Martin added: "Direct access to a transpacific cable such as Hawaiki Nui will enable us to expand and secure our network as well as position Tahiti as a new regional hub in the South Pacific between Asian and American continents."
The Nui cable is due to be completed by 2025 and will connect many of the big hubs in the Pacific, including Singapore, Sydney, and Los Angeles.
Earlier this year Hawaiki Submarine Cable Limited Partnership and International Connectivity Services Limited (Hawaiki) was acquired by BW Digital, a subsidiary of BW Group. The acquisition was undisclosed, but BW Digital now owns 100 percent shares of Hawaiki.
French Polynesia has two domestic cables linking to local islands, the Manatua cable linking to American Samoa, and the Honotua cable linking to Hawaii.