Malaysia's OMS Group has launched a new cable-laying ship in France.
"OMS Group is proud to announce that we have launched the CS Cable Vigilance in Dunkirk, France, the fifth cableship in our fleet," the company said on LinkedIn this week.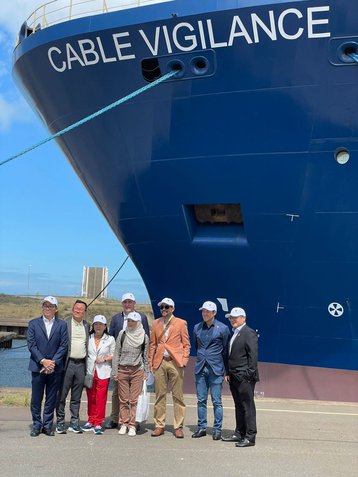 The CS Cable Vigilance will be based in France maintaining cables in the Atlantic Region. Originally built in 2006 and recently converted in Poland, the French-flagged vessel is a 5,448 gross tonnage cable-laying and repair ship.
Built for working in harsh conditions, Cable Vigilance is a fully equipped cable ship with integrated cable tanks, cable machinery, jointing and testing rooms and has its own dedicated ROV and plow capabilities.
OMS chairman Datuk Lim Soon Foo told the New Straits Times the company heavily invested in the expansion of its fixed assets to keep up with the needs of its telco and over-the-top (OTT) customers.
"I am extremely excited of the launch of CS Cable Vigilance, being the latest addition to our growing OMSG fleet. This was achieved with the unwavering support of our Series A investors, AIA and MIDF Ventures among others, and our financing banks MIDF, HSBC, and OCBC."
OMS operates a number of other ships; the CS Ile de Re, CS Lodbrog, CS Teneo, the Peter Faber, and the Miclyn Enterprise supply vessel. It also operates the Cable Orchestra and Cable Empowered cable laying barges, as well as three tugboats.
According to the ISCPC, there are around 60 cable ships in the world. According to SubTel Forum's 2021/2022 Annual Industry Report, no new-build cable ships were delivered between 2004 and 2010 after a glut of investment around the turn of the millennium. Only five ships were delivered between 2011 and 2020. OMS said CS Cable Vigilance was only the third cable ship completed in the last five years.
The report notes that new ships aren't being added at the same rate older ships are being retired. Only eight ships are younger than 18, with most between 20 and 30 years old. 19 are over 30 years old, and one is over 50.
In 2020 Orange subsidiary Orange Marine said it would build a new cable ship designed to help maintain both fiber and power cables, due for launch in 2023 to replace the 40-year-old C/S Raymond Croze.
This year saw SBSS launch a new cable ship, CS Fu Tai. Built in Spain in 2007 as an offshore construction vessel, SBSS purchased CS Fu Tai in 2021 and converted her to a bespoke vessel.
South Africa's Mertech Marine recently announced the retirement of cable retrieval ship MV Lida. It plans to replace the vessel, but hasn't made any announcements yet.
Maple Leaf Fibre, a Canadian project to lay fiber cables between Kingston, Toronto, and Montréal, recently dropped plans to lay a cable under Lake Ontario due to a shortage of cable ships.