Maple Leaf Fibre, a Canadian project to lay fiber cables between Kingston, Toronto, and Montréal, has dropped plans to lay a cable under Lake Ontario due to a shortage of cable ships.
Announced in 2018 as a joint venture between Metro Optic and Crosslake Fibre along with Utilities Kingston, was to have been terrestrial between Kingston, Ontario, and Montréal, and under Lake Ontario westwards from Kingston to Toronto.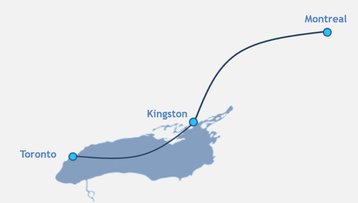 However, a shortage of cable-laying vessels has led to a change of plans, with the whole cable system now due to be terrestrial, running from Toronto via Kingston to Montréal.
Fergus Innes, chief commercial officer of Toronto-based Crosslake, told Capacity: "Vessel availability [is] one of the reasons we have pivoted from a subsea design to a full terrestrial build on our Maple Leaf Fibre project."
The companies were still planning as late as February to install the Toronto-Kingston section of the Maple Leaf Fibre on the bed of Lake Ontario. The project is already delayed, originally having been due for completion in 2019.
In 2019 Crosslake Fibre laid a cable between Toronto and New York. The cable ship C.S. IT Intrepid had to sail through St. Lawrence Seaway and a series of locks from the Atlantic Ocean to the lake.
The cable lands at Equinix TR2 at 45 Parliament Street and the 151 Front Street West carrier hotel in Toronto, running to Equinix NY4 in Secaucus, New Jersey with an interconnect in Buffalo, New York. It is currently the only cable running under Lake Ontario, and no other cables run under any of the other Great Lakes.
According to the ISCPC, there are around 60 cable ships in the world. According to SubTel Forum's 2021/2022 Annual Industry Report, no new-build cable ships were delivered between 2004 and 2010 after a glut of investment around the turn of the millennium. Only five ships were delivered between 2011 and 2020.
The report notes that new ships aren't being added at the same rate older ships are being retired. Only eight ships are younger than 18, with most between 20 and 30 years old. 19 are over 30 years old, and one is over 50.
In 2020 Orange subsidiary Orange Marine said it would build a new cable ship designed to help maintain both fiber and power cables, due for launch in 2023 to replace the 40-year old C/S Raymond Croze.
This year saw SBSS launch a new cable ship, CS Fu Tai. Built in Spain in 2007 as an offshore construction vessel, SBSS purchased cs Fu Tai in 2021 and converted her to a bespoke vessel.
South Africa's Mertech Marine recently announced the retirement of cable retrieval ship MV Lida. It plans to replace the vessel, but hasn't made any announcements yet.