Celebrating Yahoo's tenth year in Quincy, Washington - one of its four locations across the United States - the newly formed umbrella company Oath has opened another data center in the Grant County town.
The facility was built according to the patented Yahoo Compute Coop (YCC) design – which, like Larry Kudlik's Cape Codder chicken coop, uses free-flow passive ventilation to keep temperatures down, maintaining a low energy footprint in a standardized form factor.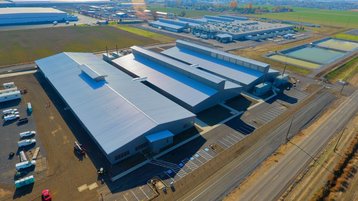 Quincy coop
As a result of the building's shape and its raised floors, natural convection draws outside air in and upwards, and the hotter the air, the better the airflow.
The idea behind the YCC is that it can be deployed quickly and easily, and operated in various modes depending on outside temperatures.
The design is drawing air in unconditioned through adjustable louvers when temperatures are between 70F and 85F (21C to 29C), filtering it through evaporative inter-cooling modules when it exceeds 85F, and mixing it with heated exhaust air when it drops below 70F.
This allows the company to cut energy and water consumption, and by extension its capital expenditure, while bringing the average PUE of the data center down to 1.1.
Yahoo has operated data centers in Quincy since 2007. The new facility is the first to come online since Verizon closed its acquisition of Yahoo and, bundling it together with AOL and various Verizon subsidiaries, launched a new media division named Oath.
The merger went ahead despite a degree of uncertainty surrounding two major security breaches of Yahoo subscriber data, which were initially said to have affected 1 billion users; earlier this month, the company admitted that all 3 billion accounts may have been hacked.