The Frontier supercomputer is finally live, and has submitted its first score to the biannual Top500 ranking of supercomputers, coming in at number one.
The Oak Ridge National Laboratory system is officially the world's fastest supercomputer, and the first to break the exascale barrier (supercomputers that are capable of at least a billion billion (1018) floating point operations per second).
However, China has operated two exascale systems for over a year - it has just kept them relatively secret, and not submitted them to the Top500.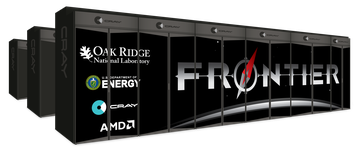 The supercomputer consists of 74 cabinets, each weighing in at 8,000 pounds. They feature 9,408 HPE Cray EX nodes, each of which has a single AMD 'Trento' 7A53 Epyc CPU and four AMD Instinct MI250X GPUs, for a total of 37,632 GPUs. Across the system, it has 8,730,112 cores.
Frontier has 9.2 petabytes of memory (half HBM, half DDR4) and is interconnected by HPE Slingshot-11, requiring 90 miles of networking cables. It has 37 petabytes of node-local storage as well as 716 petabytes of center-wide storage. The system is liquid-cooled using warm (85°F/29.4°C) water, 6,000 gallons of which is pushed through the system each minute by four 350-horsepower pumps.
The supercomputer spans 372 square meters (4,004 sq ft) and consumes 40MW of power at peak.
Frontier has not fully launched - further testing and validation of the system is required, with early science access expected later in 2022, and a full opening for scientific workloads expected in the beginning of 2023.
On the main High-Performance Linpack (HPL) benchmark used by Top500, Frontier reached 1.102 exaflops of sustained performance. It has a theoretical peak performance of 1.686 exaflops - although Oak Ridge believes it can reach 2 exaflops in time.
For the mixed-precision computing benchmark, useful for calculating AI performance, it hit 6.88 exaflops - also the world's fastest.
A single rack of Frontier (the Frontier Test & Development System) claimed the number one spot on the Green500 list as the world's most energy efficient supercomputer with 52.23 gigaflops performance per watt, making it 32 percent more efficient than the previous number one system.
The previous world's fastest supercomputer, Fugaku, maintained its lead on one benchmark, the High-Performance Conjugate Gradient (HPCG). It topped the list with 16.0 HPCG-petaflops - however, that is because Frontier did not submit an HPCG ranking.
"When researchers gain access to the fully operational Frontier system later this year, it will mark the culmination of work that began over three years ago involving hundreds of talented people across the Department of Energy and our industry partners at HPE and AMD," said Jeff Nichols, associate lab director, Computing and Computational Sciences, Oak Ridge National Laboratory.
"Scientists and engineers from around the world will put these extraordinary computing speeds to work to solve some of the most challenging questions of our era, and many will begin their exploration on Day One."
Frontier will be followed by Aurora, which also began installation late last year. Featuring Intel's Ponte Vecchio GPU, it is expected to be capable of 2 exaflops.
Another 2 exaflops system is expected next year, the AMD-powered El Capitan supercomputer.
However, while Frontier is officially the world's most powerful supercomputer, it has not been pitted against the two Chinese exascale systems that launched early last year. Neither has been submitted to Top500 testing, but reports surfaced late last year surrounding their purported power.
The Sunway OceanLight supercomputer is believed to be around 1.3 exaflops peak/1.05 exaflops sustained on the HPL benchmark, which would put Frontier slightly ahead.
However, the Tianhe-3 is thought to be capable of 1.7 exaflops peak/1.3 exaflops sustained, making it still the world's most powerful supercomputer.
But the US is believed to be ahead on software optimization, allowing it to eke out more performance from its systems. Some claim that China built its systems simply to perform well on HPL, and that they are not as general purpose as Frontier.
Complicating matters further, though, is that HPL itself is a questionable metric for deciding the world's fastest supercomputer. "Designing a system for a good Linpack performance can lead to design choices that are wrong from today's applications," Prof. Jack Dongarra admitted earlier this month.
Dongarra, who created the benchmark back in 1979, said much had changed since its creation, and that we should be thinking of new benchmarks for supercomputers.