Packing the equivalent throughput of 250 x86 servers in a box, the Nvidia DGX-1 has been unveiled to help researchers and data scientists to execute artificial intelligence (AI) applications and other compute-heavy data processing. The company has hailed its product as "the world's first deep learning supercomputer".
Packing up to 170 teraflops of power into a deep 3U grade rack casing measuring 866 x 444 x 131 mm (34 x 17.5 x 5 inches) and weighing a hefty 61kg (134lbs), Nvidia has powered the machine with eight Tesla P100 GPU accelerators based on its new Pascal architecture and linked by a NVLink Hybrid Cube Mesh. This is backed up with a deep learning software suite designed to let users set up and train neural networks with greater ease, the company claimed.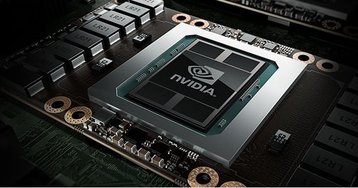 Jen-Hsun Huang, CEO and co-founder of Nvidia, said, "Data scientists and AI researchers today spend far too much time on home-brewed high performance computing solutions. The DGX-1 is easy to deploy and was created for one purpose: to unlock the powers of superhuman capabilities and apply them to problems that were once unsolvable."
The DGX-1 software includes Nvidia's Deep Learning GPU Training System (DIGITS) interactive system for designing deep neural networks and the company's latest GPU-accelerated library of primitives: CUDA Deep Neural Network library (cuDNN) version 5. Optimised versions of third party products are also included in the suite – Caffe, Theano and Torch - plus access to cloud management tools, software updates and a repository for containerised applications.
Supporting the GPU power is 16GB of dedicated memory per processor, dual 16-core Intel Xeon E5-2698 v3 CPUs and four 1.92TB SSDs. Huang also said that systems packing Pascal graphics chips could run some processes up to12 times faster than previous systems based on Nvidia's Maxwell architecture. This would mean a 25-hour task on a Maxwell PC might only take two hours on a Pascal system, he said.
Xuedong Huang, chief speech scientist at Microsoft Research, commented: "Microsoft is developing super deep neural networks that are more than 1,000 layers. Nvidia Tesla P100's impressive horsepower will enable Microsoft's CNTK [Computational Network Toolkit] to accelerate AI breakthroughs."
The Nvidia DGX-1 will go on general availability in the US in June and sometime in the third quarter of this year in other regions in other regions. A US guide price of $129,000 has been mentioned but no figure has officially been set.