Singapore's National Supercomputing Centre (NSCC) is to procure and deploy two supercomputers dedicated to health research.
This week the NSCC, SingHealth, and Nvidia announced a partnership to develop a supercomputer that will use Nvidia's tool to help predict potential heart problems in patients.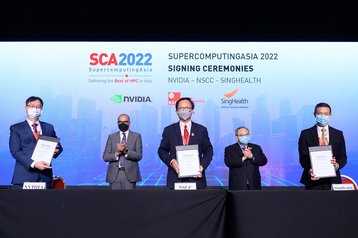 NSCC and SingHealth will develop and deploy a supercomputer that will be placed at SingHealth's Singapore General Hospital (SGH) Campus to support medical research and innovation efforts for the cluster and healthcare researchers from across Singapore. Nvidia will provide access to its software tools and pre-trained AI models. Specifications of the supercomputer were not shared.
"Supercomputing power is a very critical national resource that is crucial in enabling many research projects that impact the economy and society, now and for the future," said Peter Ho, Chairman of the NSCC Steering Committee. "NSCC is excited to work with partners like SingHealth and Nvidia to benefit local researchers in an important field like healthcare."
The project will support SingHealth's Artificial Intelligence for Transformation of Medicine Programme (AIMx), which aims to develop AI algorithms for the smart triaging of patients with cardiovascular disease. The system will search clinical data, chest x-rays, and retinal images of patients with symptoms of cardiovascular disease to predict a patient's risk of cardiac events.
"The adoption of emerging technologies is a game-changer in helping us enhance care delivery and optimize healthcare resources with the goal to improve clinical outcomes and the experience for patients," said Professor Kenneth Kwek, Deputy Group CEO (Innovation & Informatics), SingHealth. "Through this exciting collaboration with NSCC and Nvidia, supercomputers and software specialized for AI and deep learning will be made readily available and accessible to our colleagues, to aid them in doing breakthrough research and developing new innovations that will transform and shape the future of healthcare."
Nvidia will provide access to its software development kits and open-source pre-trained AI models for the project.
"Our collaboration with NSCC and SingHealth will help to grow research and innovation in healthcare, as well as other key fields related to climate research and digital twin simulation in Singapore," said Dennis Ang, Senior Director, Enterprise Business, ASEAN and ANZ Region at Nvidia.
The news follows another recent partnership to deploy a healthcare-focused HPC system. In December 2021, NSCC and National University Health System (NUHS) announced an agreement to build a petascale national supercomputer to serve Singapore's medical and healthcare research needs by the middle of 2022.
The system, named Prescience, will be used to train AI models that predict patient health outcomes and recommend when a patient's condition may deteriorate. It will be built and sited at NUHS.
"The National University Health System sees a large number of patients per day and generates large amounts of data which can be used to train AI models that improve the quality of care," said Associate Professor Ngiam Kee Yuan, Group Chief Technology Officer, NUHS.
In April 2021, HPE was awarded $40m SGD (US$30.1m) to build a new 10 petaflops supercomputer for the NSCC