Northern Virginia has once again been named the world's most desirable data center location, in the annual list from property specialist Cushman & Wakefield.
Eight of the top spots go to US cities in the Global Data Center Market Comparison report which ranks Internet hubs according to criteria including fiber connectivity, tax breaks, and the price of land and power. The top 10 list is heavily US-dominated, and Cushman predicts that Northern Virginia will likely reach more than 2GW in the next two years, with a current capacity of 1.7GW.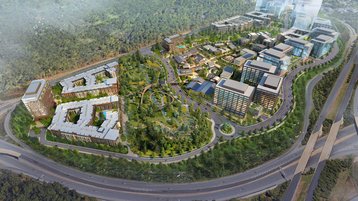 Singapore climbed from number five to tie second, despite having had a long-standing moratorium on new data center projects, which is only now beginning to open. the list also included four new entrants.
Vying for space
After Northern Virginia, Silicon Valley and Singapore tie for second place, followed by Atlanta and Chicago tied fourth. Hong Kong, Phoenix, Sydney, Dallas line up in sixth to ninth place, with a tie for tenth place going to Portland and Seattle.
"It comes as no surprise that Northern Virginia again finished on top of the overall standings for the third consecutive year," says the report, written by Kevin Imboden, director of research at Cushman's Data Center Advisory Group. "It's the largest data center market in the world, featuring a strong construction pipeline. It offers excellent connectivity, attractive incentives, and low-cost power. Vacancy is exceptionally low and demand is high—operators and tenants alike are interested in expansion. Given those conditions, the area will likely become the world's first two-gigawatt market over the next two years."
Northern Virginia, Silicon Valley, and Singapore do well in the list despite well-publicized shortages of land and power that in Singapore's case actually led the government to put the brakes on data center building approvals. But land and power are among the three lowest priority items in the 13 factors which Cushman considers in its ranking, signifying that builders are always expected to find a way to squeeze more capacity into a location which is made attractive by the top considerations which are all about being close to existing capacity in a hub.
Cushman's top three factors are fiber connectivity, market size, and cloud availability.
Middle-weighted factors are essentially optional nice-to-have extras - these include sustainability, political sustainability, taxes, and incentives. Environmental risks from natural disasters is the other least-weighted factor.
Under these weightings, Hong Kong jumps from outside the top 10 to number 6 despite having very low availability of renewable energy, meaninig data center operators there are responsible for very high levels of greenhouse gas emissions.
On the other hand, Imboden credits environmental concerns for Seattle and new entrant Portland's tie for the number 10 spot: both are "sustainably-focused cities in the Pacific Northwest of the US."
US domination
The US-heavy top ten list seems to suggest increasing dominance by the US, perhaps driven by a continued perception that US social media and cloud hyperscalers dominate the Internet. However, it may also reflect the fact that China doesn't participate in the international property market in the same way as other nations: Beijing and Shanghai feature in the list, but don't disturb the top ranks, even though Shanghai is the fourth largest data center hub in the world on 600MW.
The top 10 the includes eight US hubs, with new arrivals Atlanta, Portland, and Phoenix making up for the fall of New York (last year's number 9). Two non-US locations dropped out of the top 10: London (previously at number 7) and Amsterdam (last year's number 10), despite their size, on 800MW and 400MW respectively.
Singapore, Hong Kong, and Sydney where the three non-US locations in this year's list. It's worth stating that the Top 10 list actually includes 11 names since there was a tie at tenth place.
Outside of the top rankings, Cushman doesn't publish a comprehensive list, but Imboden called out Madrid for a special mention, which jumped from 34th place to 19th, thanks to being "a low-risk location with respect to natural disasters", with "all major cloud services present".
It's worth noting that of the ten locations labelled "markets to watch" in 2019, none broke through into the top 10. That list included Stockholm, Chennai, Nairobi, Cape Town, Moscow, Athens, Abud Dhabi, Santiago, Kulal Lumpur, and Vienna.
However, among the new markets added this year,. Stockholm and Santiago did well, with Santiago highly rated as a hub to serve greater South America.
This year, Cushman included 56 markets, up from 42 last year. According to the 2022 report, the markets to watch are similar to those in 2021: Cape Town, Moscow, Athens, Abu Dhabi, Vienna. Istanbul, Hyderabad, Bangkok, Auckland, and Mombasa.