Google and staffing vendor Modis have settled with the National Labor Relations Board (NLRB) over the firing of a contractor.
Tuesday Carne filed a complaint with the NLRB in late 2021 after they lost their job at Google's South Carolina data center for being "ungoogley".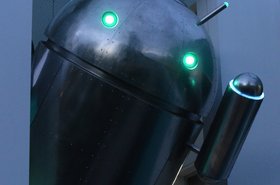 Carne claimed that on her second week on the job she was at a meeting with managers to discuss upcoming schedules. There she learned that employees who worked shifts over a holiday period were entitled to double pay - but only if they had worked there for at least six months.
"I basically said, 'that's bulls---,'" she said in 2021 when the complaint was filed. That evening, a Modis manager at the Moncks Corner facility sent her an email calling her behavior "unacceptable and 'ungoogley'".
Carne turned to the Alphabet Workers Union (AWU) for support in the case. The AWU previously supported another Modis data center contractor, Shannon Wait, who was fired for complaining about how the company treats and pays TVCs. Google settled that complaint, at the same data center, and agreed not to silence workers discussing pay.
"I'm elated that Modis and Google are forced to take accountability for their decision to terminate me," Carne said in a statement first reported by Forbes. "Not only did it cause me an enormous financial burden that I wasn't prepared for, but it initially made me feel a certain shame for simply speaking up for myself."
As part of the settlement, Carne will receive front and back pay, but waived their rights to be reinstated by the company. Modis will also have to erect notices at worksites saying that the firing had been reversed, and that workers would not be punished for discussing wages, hours, or working conditions.
However, in a six-month investigation where DCD spoke to half a dozen current and former TVCs and Googlers, we learned that it was still trying to stop workers from discussing pay - an action that is against US labor laws.
More in Workforce & Skills